Manny Pacquiao showed that one needs to work hard for success, and that poverty, lack of opportunity and education are not obstacles, but challenges.
Heroes are made, not born.
And only few Filipinos can exemplify this quote better than Manny Pacquiao, the Philippines' primary source of pride and inspiration. From an impoverished life he fought his way to the top, emerging as the first and only eight-division world champion with ten world titles under his belt. Thanks to his achievements, Pacquiao has gained multitude of fans from around the world, with some experts describing him as the history's finest boxer.
But what makes Manny Pacquiao one-of-a-kind? What are the forces that have pushed him to excel in boxing and even explore music, basketball, and politics among others?
A Manny Pacquiao fight may last only for 36 minutes.
But in those 36 minutes, crime rate drops to zero.
In those 36 minutes, peace reigns in the Philippines.
In those 36 minutes,  Manny "Pacman" Pacquiao makes the Filipinos forget there ever was a problem of poverty in their homeland.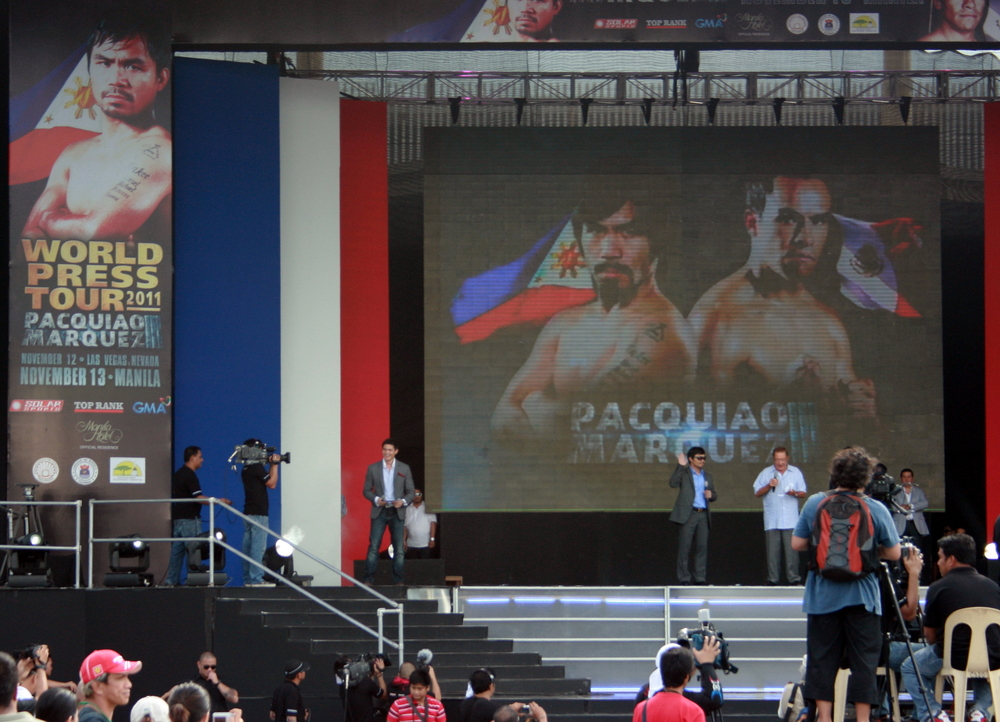 Manny Pacquiao took the road less travelled to where he is now. Sometimes it's easy to forget how far this man has come with all the millions, cars, houses and huge entourages he now rolls with. But before he was appearing in movies, commercials and donning the covers of magazines around the world, Pacquiao was busy hustling the streets of General Santos City to find something to eat.
Growing up exposed to the realities of poverty and hunger, Manny's first dream he remembered having as a child was that of a "table of bowls overflowing with food" and his family smiling as "they ate their fill, and their stomachs were content for an entire day.
Emmanuel "Manny" Dapidran Pacquiao was born on December 17, 1978 in Kibawe, Bukidnon in MIndanao here in the Philippines. Born of a typical poverty-stricken Filipino family, Manny Pacquiao left elementary school when his father left his mother to be with another woman.
He was skinny. He was lost. And just like a lot of adolescent kids in the Philippines, he was an out-of-school youth. But one thing Pacquiao wasn't and still is not, is lazy. Pacquiao always tried to find ways to better himself based on what he knew. He tried his hand at selling cigarettes and donuts and repacking garlic to re-sell so he can make some coin. He tried doing construction work and moved to Manila to find money making opportunities. And then he found boxing.
When not wandering the streets to sell his merchandise, he would be seen visiting other nearby villages and towns to compete for boxing matches most especially during town fiestas for a reward of just P150 (~US$3) for winners and P100 (~US$2) for the loser. The money that he gets would be a great help for his mom to support their living expenses, and for buying rice.
Sadly, the brutality of Pacquiao's early years, Dickensian to most western eyes, is far from unusual in his home country of the Philippines, where nearly 6% of children are orphaned and 40% of its 90 million people wallow in abject poverty.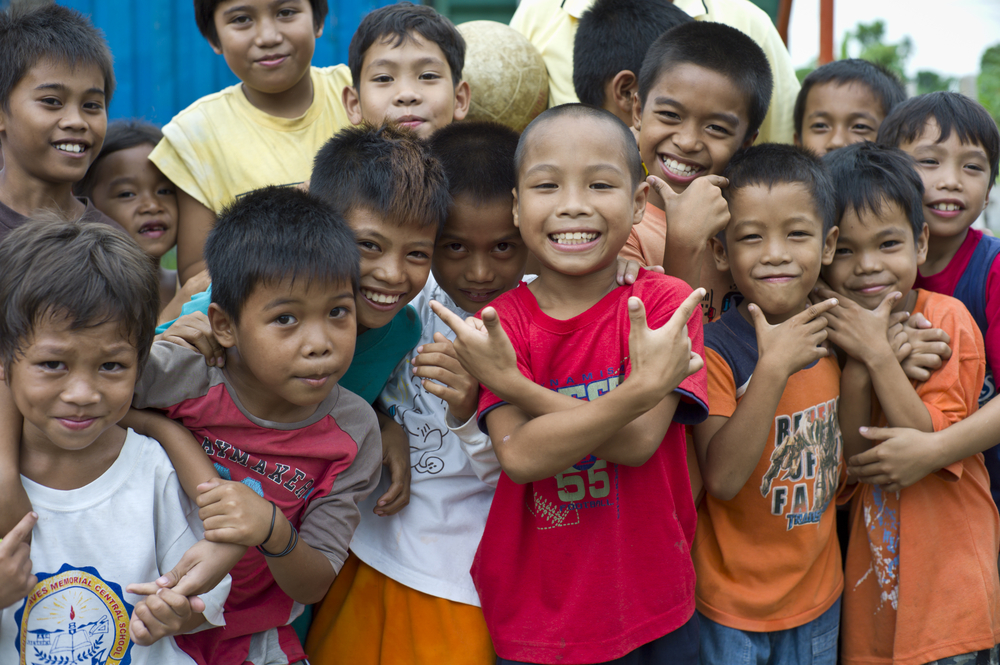 Work Hard if  You Want Success
Such a childhood helped him learn many important lessons. The first of all – for success you need to work hard. Poverty, the lack of opportunity, not having education, these are all challenges. They are not reasons to concede defeat. If you work hard, good things will happen. We all have our gifts and talents. When the means are not there for you, you have to make it for yourself.
Furthermore, when asked about his formula for success, Manny often says dedication, perseverance, courage, extreme self-discipline and prayer are his secrets. He called the system the "Power Three." This three-step process involves:
     Your goals
    A  system to reach those goals
    Discipline to maintain your system until you reach your goals.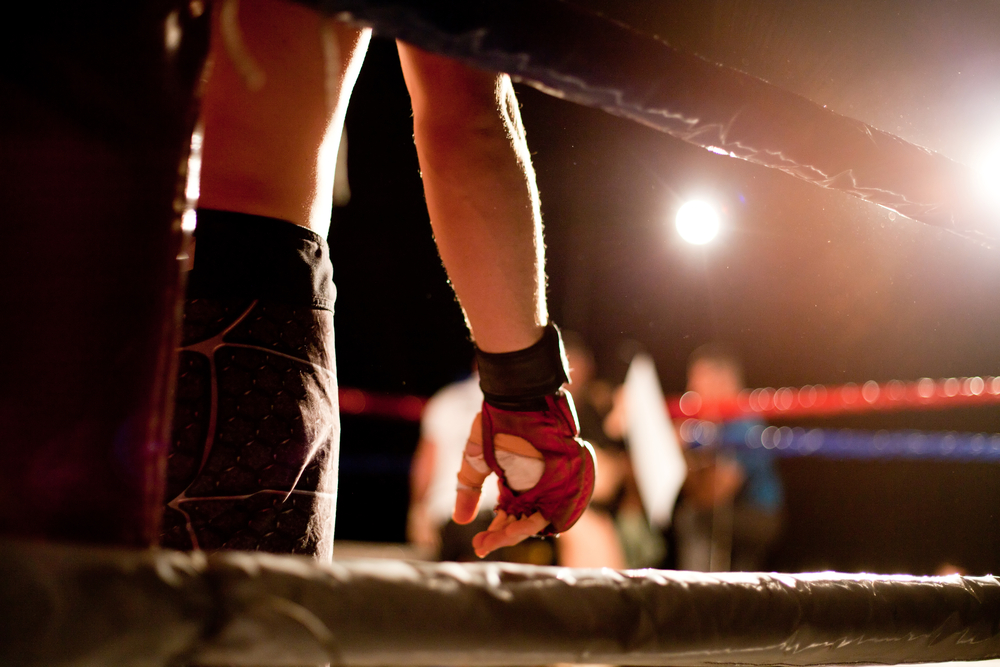 He once claimed:
Anyone will succeed in whatever field of endeavor in life by acquiring the same virtues and character that boxing world champions do.
Truly, Manny Pacquiao is one of the best athletes in the world not only in his profession but also to his friends as well. Although he is universally considered the best boxer in the world and ranked by Forbes Magazine as the 6th wealthiest athlete, he never flashed his money, never wore gold and diamonds to brag to his friends, nor he treated people like they are inferior to him. He kept his same old friends, and these friends are poor, some are missing a tooth, barefooted, and wrinkled shirts with old stains on them. He welcomed them to his mansion, played basketball in the shantytowns of his hometown, and always gives credits to the people who are the dearest to him.
Manny is a pioneer for young individuals who seeks success in life, respect for others, and is a symbol of modesty and professionalism!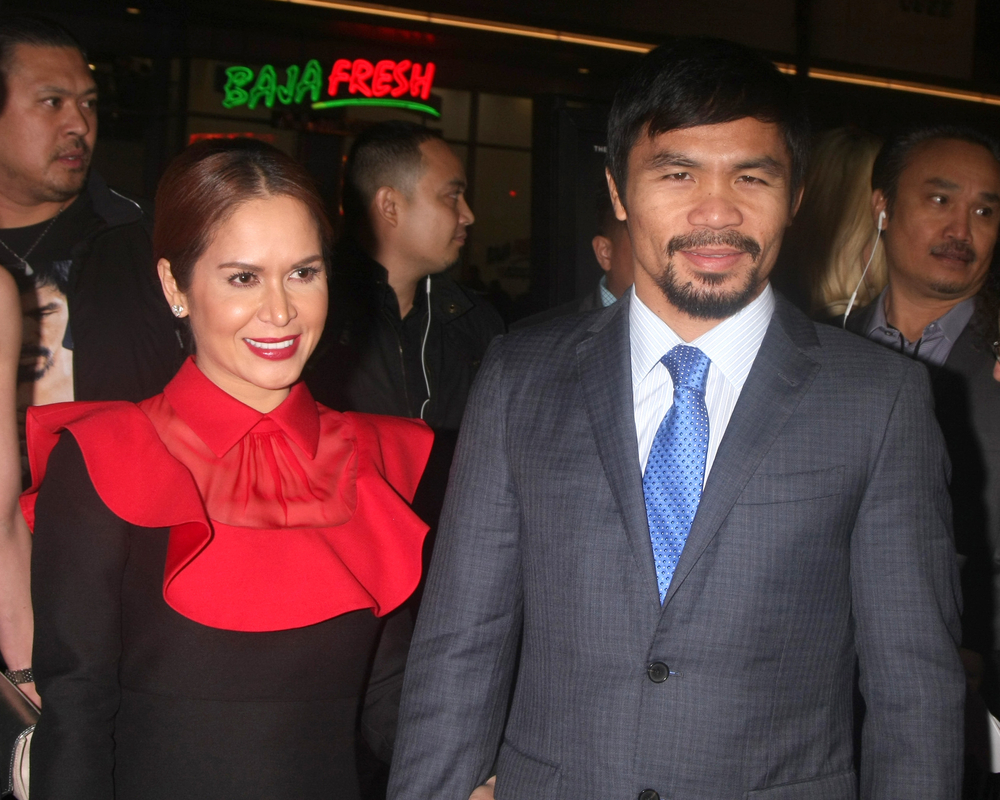 The Importance of Education
The other lesson he learned is the importance of education. In spite of having millions, Manny always wanted to improve, to learn, to work on himself, to be a better man. Therefore he wished to continue with schooling he once left.
Pacquiao completed his elementary education at Saavedra Saway Elementary School in General Santos City, but dropped out of high school due to extreme poverty. He left his home at age 14 because his mother, who had six children, was not making enough money to support her family. But, in February 2007 he took, and passed, a high school equivalency exam making him eligible for college education. He was awarded with a high school diploma by the Department of Education. Pacquiao enrolled for a college degree in business management at Notre Dame of Dadiangas University (NDDU) in his hometown in General Santos City. On February 18, 2009, Pacquiao was conferred the Honorary Degree of Doctor of Humanities (Honoris Causa) by Southwestern University (SWU) at the Waterfront Cebu City Hotel & Casino in Lahug, Cebu City in recognition of his boxing achievements and humanitarian work.
In preparation for his career as a lawmaker in the House of Representatives, Pacquiao enrolled in the Certificate Course in Development, Legislation and Governance at the Development Academy of the Philippines "" Graduate School of Public and Development Management (DAP-GSPDM).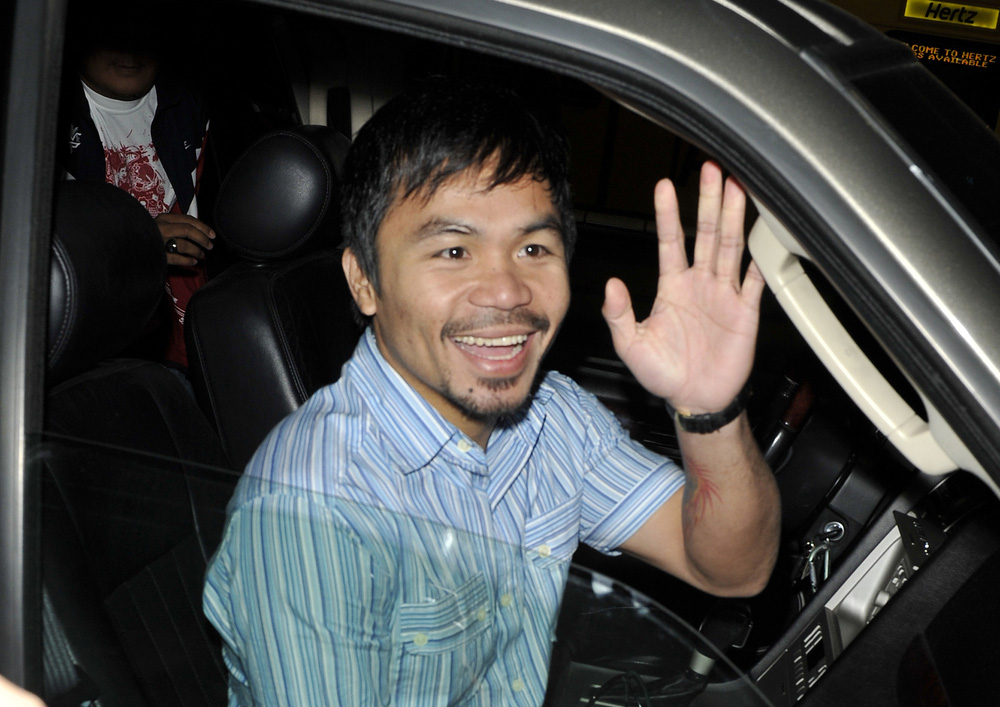 Purpose  of Life Is to Be Useful
Ralph Waldo Emerson, famous poet, once said:
The purpose of life is not to be happy. It is to be useful, to be honorable, to be compassionate, to have it make some difference that you have lived and lived well.
Manny may never heard of  Emerson, but he lives just according to these quotes.
He came from extreme poverty. Now that he has everything in life he still practices that extreme humbleness in his heart. That's why he is so loved by people in Philippines.
As a philanthropist, he is spending hundreds of thousands of his own dollars to help those in need. Manny returned to Barangay Tango in Glan, Sarangani, the Filipino village where he grew up, to offer free housing to the impoverished people who currently reside there. The project will benefit an estimated 94 families and cost the pugilist over $2 million. The boxer told his constituents that they would be allowed to live for free but that they must help build their own houses. He helped people who lost their homes after floods ravished the Philippines, donating money he earned from his fights. He donates one million pesos to a hospital in GenSan every time he has a fight.
When one of his sparring partners said he was getting married, Pacquiao helped the newlyweds buy a house. When the poor province in which he grew up in the Philippines needed a hospital, he ponied up some of the money for one. When his country had elections, Pacquiao ran twice for and finally won a post in congress. He helped start one program to give cattle to farmers and another to give small motors to fishermen for their boats.
Manny Pacquiao owns a lottery outlet for the Philippine Charity Sweepstakes Office, but this isn't just a regular lottery outlet. The Philippine Charity Sweepstakes Office is actually the charity arm of the government, which means that a lot of money that is made from the lottery is put to good use. The money is often reinvested back into public services, such as health care and welfare, and it wouldn't be as successful without Manny Pacquiao's name attached to it.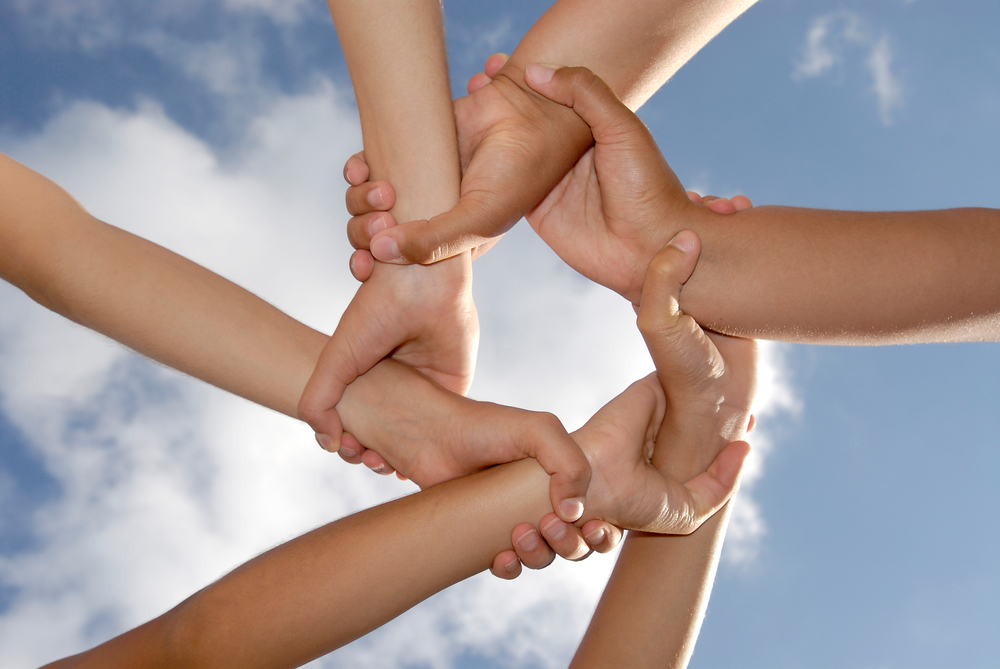 This is just one of the many ways he gives back to his country via charity, as he has also established his Foundation to support underprivileged individuals in the Philippines.
Remember the information from the beginning of the article, regarding the crime rate? Let's get back to it. Well, when Manny fights, the crime rate goes down, because the entire country watches "" literally. The police in Manila say that crimes drop drastically during his fights, which means that even criminals stop their dirty work to watch. There are also regular squabbles between communist insurgents and Muslim secessionists, but even they put their battles on ice to watch him.
In simpler terms, nearly the entire country of roughly 90.5 million people stops to watch the Pac-Man fight, which is simply astounding.
Whenever he's got a championship fight, the whole of the Philippines grinds to a halt. Rebels put down their guns, everything stops in the towns and cities as people gather around TVs, radios and in movie houses. But, it's the same in London: whenever there's a Manny fight, Filipinos gather in the early evening and spend a sleepless night waiting for him to enter the ring. What Manny means to people is pride.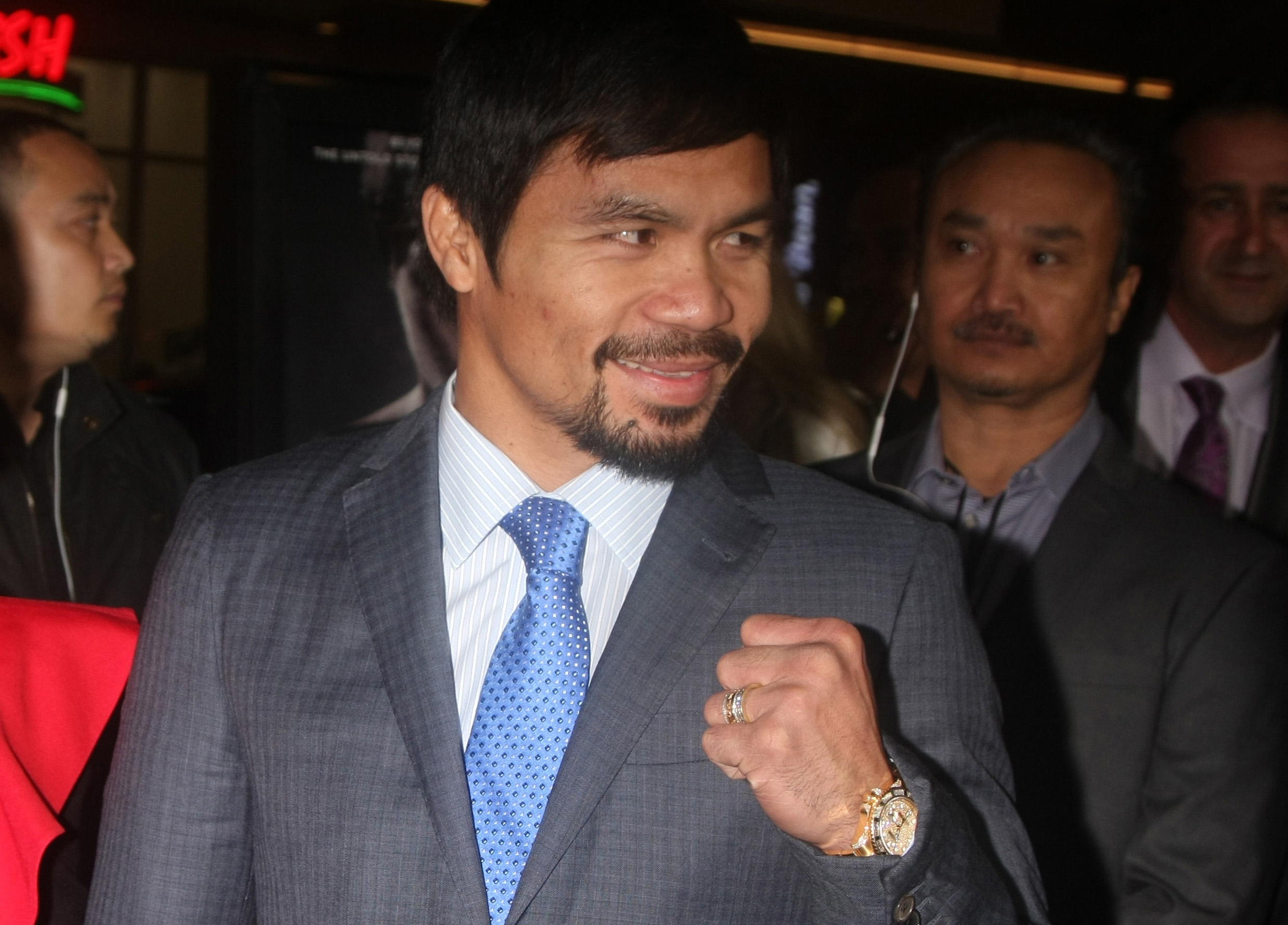 [divider]
Manny Pacquiao is a Filipino world champion professional boxer. At 32 he was elected to the Philippine House of Representatives. He has also been involved in basketball, acting, and is a retired singer. He is the first and only eight-division world champion, in which he has won ten world titles, as well as the first to win the lineal championship in four different weight classes. According to Forbes, he was the 14th highest paid athlete in the world as of 2013. Pacquiao's purse for his May 2 welterweight title bout in Las Vegas against Floyd Mayweather Jr. may reach $120 million.