On rainy days it can be a challenge to find exciting games for children. Why not go outside, explore the rain, and enjoy jumping in a puddle?
The weather forecast can easily put a damper on the outdoor-fun plans of children. Whether it's cold and cloudy after a proper rainfall or rainy and uncomfortable, kids will quickly start demanding to do something fun. For many adults, this weather means staying inside and enjoying a hot cup of tea or coffee. In contrast, most children do not feel that way and would rather spend time outside exploring the world when it is wet.
Remember the time as a child when you really wanted to jump into every puddle? There is something magical about rain puddles for children because they can feel the splash of water on their legs, use toys that can float in them, and just jump from one puddle to another. Instead of convincing the kids to play in the house, it is a great idea to think about ways to use a rainy day as an advantage and get outside for some water fun. Here are a few ideas to help create an interesting and adventurous water experience.
1. Jump in the puddle
When it starts raining, you can encourage the kids to put on their raincoats and boots and go outside to enjoy a few jumps in different puddles. Besides the fun your children will have, puddle jumping is also a teaching activity because children develop better gross motor skills of jumping and stomping when trying not to fall into the puddle. It is also a good way to teach kids about cause and effect as they see water moving. Many children will love to jump in puddles while it's still raining because of the movement the rainfall creates in the puddle. This activity is best suited for those days when it is still warm such as on a rainy summer or autumn day.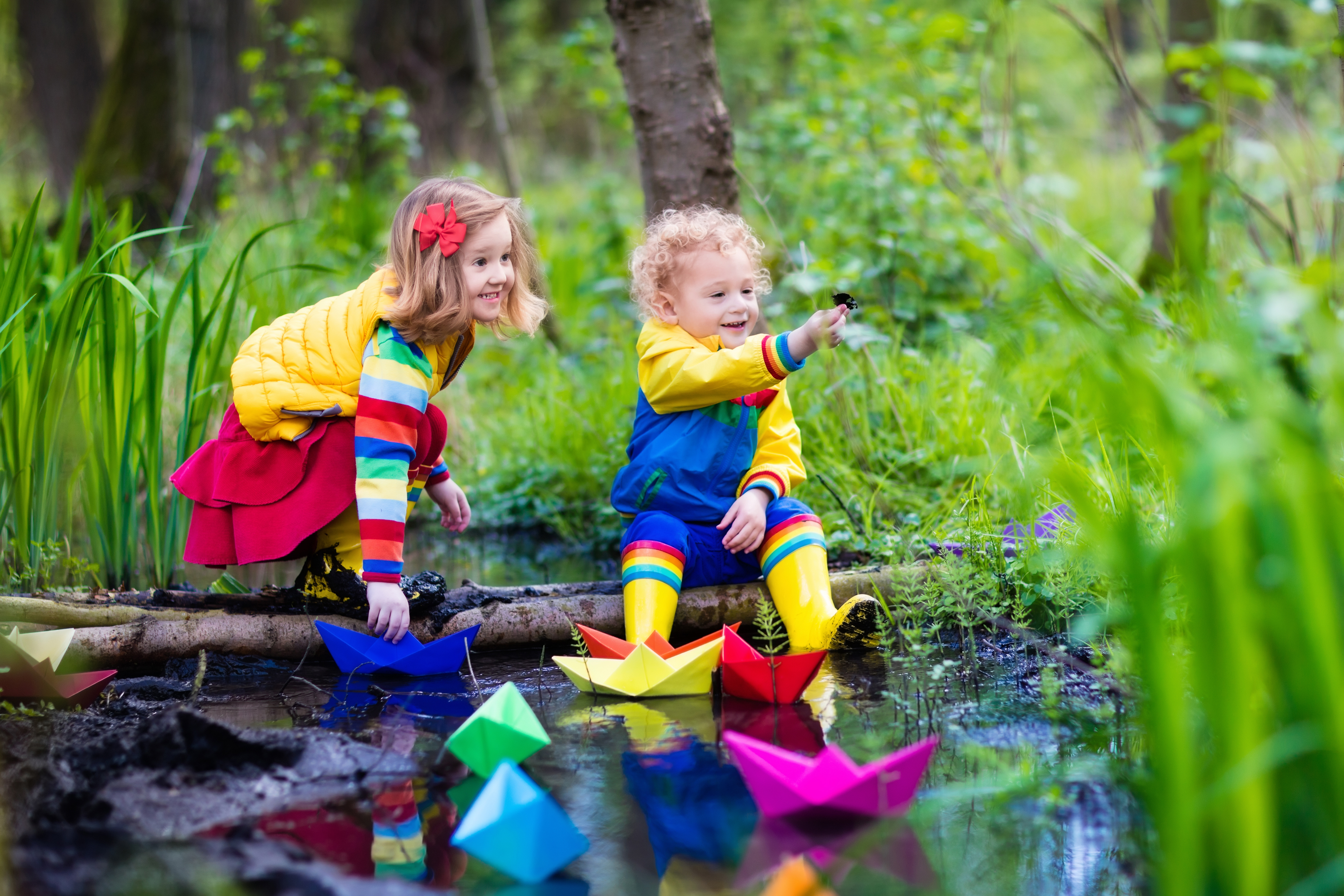 2. Experiment with floating and sinking
Puddles are a rich experimental source. Children can pick up items that they find in nature in order to explore properties of floating and sinking. Do leaves or sticks float? What about rocks or a folded origami boat? Children can experiment further by having a look at what happens when they throw rocks into the water. Why do ripples form when stones are dropped in a puddle? There are many other questions children can ask and try to seek answers for through playing in the rain.
3. Make music
It can be loads of fun to listen to the sound rain makes. Children will experience that the sound rain makes when falling into a puddle is quite different to the sound it makes when falling on garden furniture such as a table. There is also a difference when listening to hard and soft rain. While listening to these different sounds, you can encourage your child to replicate the sounds using utensils you can find at home, including pots, measuring cups, brushes, or a drum. Another idea is to make up songs and sing while playing in a puddle. There are many songs for rainy days online, but you can also come up with your own songs. These very easy and basic activities support children in developing their sense of rhythm and rhyme, which are vital awareness skills.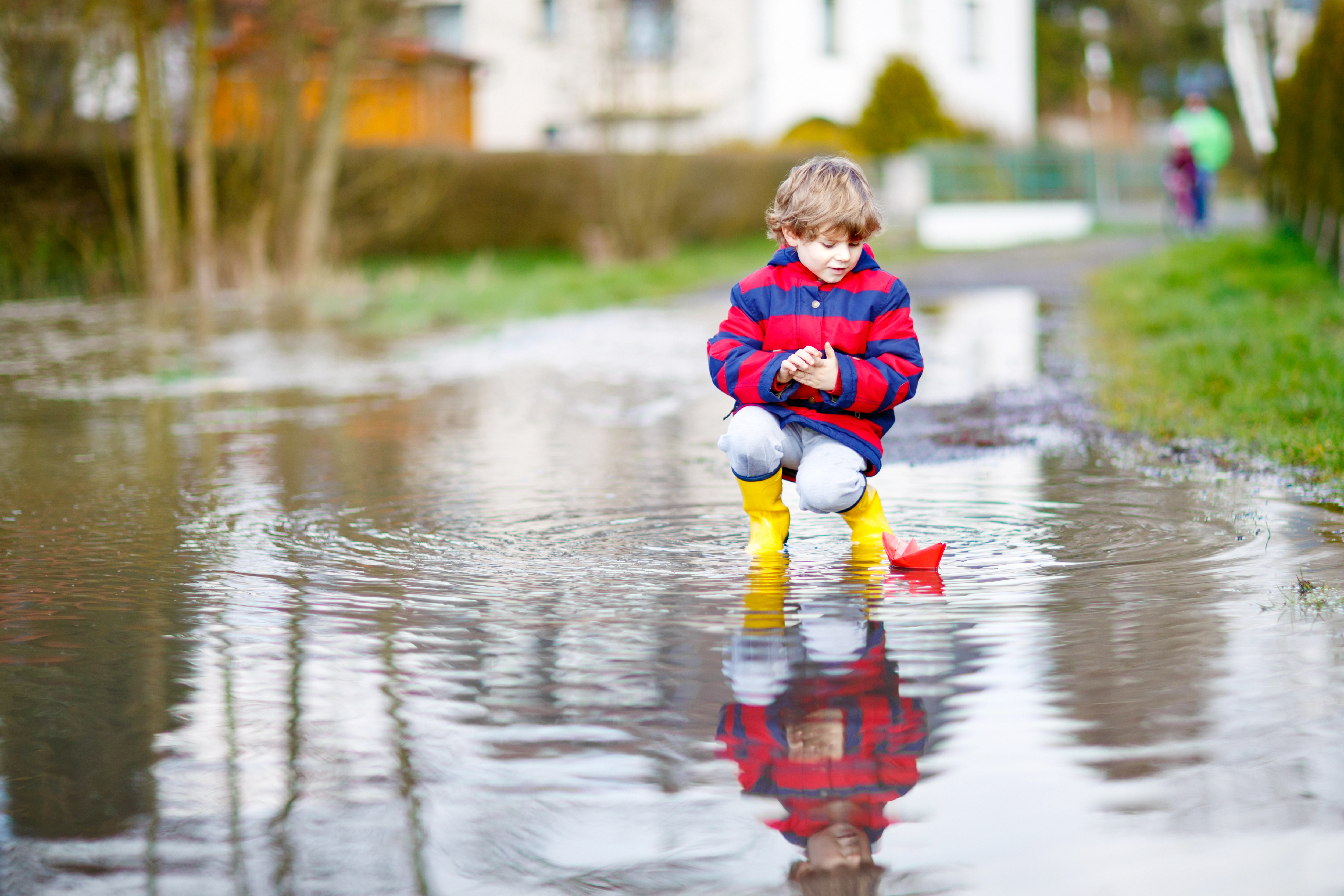 4. Explore options of imaginative play
When it comes to creating their own play realities, children have very little need to ask parents for help. But parents can do the following: they can encourage the little ones to explore their surroundings and provide them with some tools to live out their ideas. For example, many children love to think of puddles as soup. In order to let them engage in this 'puddle soup cooking' activity, it is helpful to provide them with some scoops, spoons, and buckets. Children imagining a world where they stir, measure, and serve soup isn't only a lot of fun to watch, it also enriches each kid's language when they focus on the imaginary action and describe processes to parents, friends and themselves. This way, imaginative play is a good time for children to practice and improve their vocabulary. In addition, these activities have a positive impact on children's self-confidence as well as their fine motor skills due to the usage of measuring cups and other kitchen utensils.
Nature is a wonderful place to teach children through play. Even rainy days provide loads of opportunities to have fun and explore nature. The next time the kids sit inside the house on a rainy day telling you that they are bored, put on the raincoat, find the rain boots, open an umbrella and head outside to find puddles. They will provide endless fun!