Get to know our "Support, not perfection" participant, Mirjana Popović, her husband Nebojša, and their lovely family.
"Good morning, mommy!" – said my girls out loud as they crawled into my bed.
Woody leaps after them and licks me while wagging his tail joyfully. Daddy Nebojša, at the door of the room, with a cup of hot coffee in his hand. Mmmmm… coffee that smells so wonderful! A wonderful and perfect Sunday morning starts like this, but… only in American movies and in my dreams!
In fact, we are a perfectly imperfect, STRANGE family!!!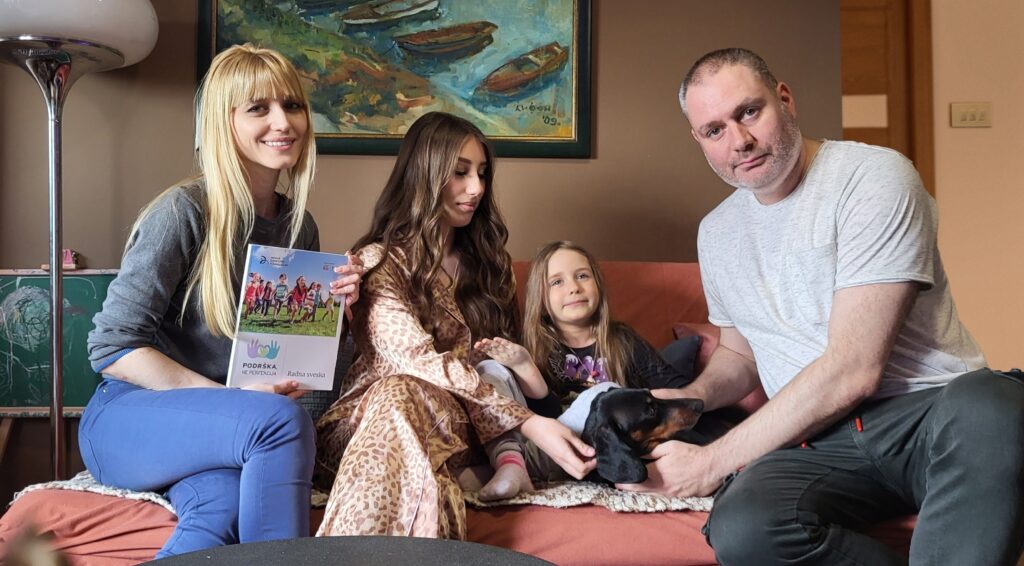 Daddy Nebojša (42) – a musician, painter and darts enthusiast. Hidden talent – to make everything out of nothing.
Mommy Mirjana (39) – nurse, housewife, cook, housekeeper, big dreamer and aesthetician. Hidden talent – decoration and interior design.
Marina (17) – high school student with the heart of a five-year-old, lazy, extremely talented and gifted in the arts (playing, painting, drawing). Hidden talent – sleeping to infinity.
Milica (5) – the youngest and sweetest member, with an extremely bright and restless spirit, capable of causing happiness, nervousness, anger, joy, laughter, tears in others in an instant. Hidden talent – love for preparing and eating food.
Woody – a six-year-old dachshund picked up one characteristic from each member of the "pack": dad's tranquillity, mom's anxiety and irritability, Marina's love of sleep, and Mica's "I like to eat everything" attitude.
A STRANGE family… that name was given to us by Mica because:
Marina and she have the same mom, but not the same dad;
Marina is so big, almost like mom, and yet she is a child;
Mom also gave birth to Woody, because he's her brother too, for God's sake;
Our last names are Popović and Višanović. Marina and mom Popović, and she, dad and Woody Višanović.
Everything is so strange!
We are perfectly imperfect, because THE RULE IS THERE ARE NO RULES.
Nothing is forced or necessary except good health, quality of life and sleep, which only mom lacks. Dad allows everything, including a late dinner and a late sleep, and that Marina has a boyfriend and that Mica drinks cold soft drinks… the only condition is to be nice, kind, and well-mannered.
With mom, there are no conditions, everything is allowed up to a certain limit. Mom just likes to talk a lot and demands to talk about everything in the house. Mom tried to introduce order, work and discipline… but she realized that the most important thing is to love, respect and being satisfied. Mom is the person who balances and tries to keep all the household smiling and fulfilled every day.
Why is the workshop a great thing?
Because mom knows it's not easy to be a good parent, and because she thinks she can always do more and better.
Because it's nice to know that there are other moms who share similar troubles.
Because it's wonderful to hear the opinion, the advice of another "unknown" mom, as well as express your own point of view.
Because it means a lot to see where you are as a parent, what you did wrong, what you did well and to know in which direction to continue.
And finally, because these moms and dads don't have enough time for themselves, so the workshop came to them as a night out.
And dad… well, dad signed up voluntarily "to hear what moms have to say". But, above all, behind his arbitrary application is a huge support for this mom to persevere in everything she imagined, including in this workshop. THANKS, DAD!
Suggestion for future workshops – Please include a 30-minute break so parents can talk to each other, it is so nice to meet new people and hear some new stories.
We, as perfectly imperfect parents, managed to awaken in ourselves conscious and conscientious parenting, thanks to this workshop.
So dear parents, no matter how perfect or imperfect you think you are, this workshop is what you need, because in addition to receiving immense love and support, you will gain some new experiences and some wonderful friendships.
Parenting is like a tennis match…the fun, the fear, the excitement and the uncertainty of the final outcome. Only those who are persistent, calm and trained win the match. We are still playing our match, even though this training session was successful.
Therefore, DEAR PARENTS, PICK UP THAT RACKET AND GET ON THE COURT!!!
The "Support, not perfection" program is implemented with the help of our partners Generali osiguranje Srbija and The Human Safety Net. Together, we built/equipped 14 Centers for parents within preschool institutions where the program is implemented: Bač, Pančevo, Kovačica, Šabac, Šid, Užice, Paraćin, Jagodina, Belgrade, Vladimirci, Petrovac na Mlava, Novi Sad, Irig, and Sjenica.