Organized by the Novak Djokovic Foundation as part of the "Support, not perfection" program, the documentary film "Wisdom of Trauma" by Dr. Gabor Maté will have its premiere screenings in Belgrade, Novi Sad, Niš, Skopje, Podgorica, Ljubljana, Sarajevo, and other cities throughout Serbia and the region.
From September 18 to September 30, the film will be shown in 40 screenings across 24 cities and six countries in our region, with the majority of screenings taking place in Cineplexx cinemas. Tickets for the screenings hosted there are available for purchase on the Cineplexx website and at cinema box offices.
Seven screenings will have a premiere status and will be accompanied by panels featuring the co-founder and global CEO of the Novak Djokovic Foundation – Jelena Djokovic, the program director of NDF and co-author of the program "Support, not perfection" – Smiljana Grujic, the founder of the Center for Missing and Abused Children (formerly known as the "Tijana Juric" Foundation) – Igor Juric, as well as local experts.
The film premieres and panels will take place in Cineplexx cinemas in Belgrade (TC Galerija, September 18), Novi Sad (TC Promenada, September 19), Niš (TC Stop Shop, September 20), Skopje (TC City Mall, September 21), Sarajevo (September 25), Ljubljana (TC Rudnik, September 27), and Podgorica (TC BIG, September 29).
All proceeds from ticket sales will be donated to the Novak Djokovic Foundation and its programs aimed at improving parental competence and children's well-being.

As for other regular screenings in Cineplexx cinemas throughout Serbia, they are as follows:
SERBIA (BELGRADE)
TC Galerija, 19.09.
TC Ušće, 20.09.
TC BIG, 21. 09.
TC BEO, 22.09.
TC Delta City, 25.09.
SERBIA (OTHER CITIES)
Novi Sad, TC Promenada, 20.09.
Kragujevac, TC BIG, 21.09.
Niš, TC Stop Shop, 21.09.
MONTENEGRO
Podgorica, TC BIG, 30.09.
BOSNIA AND HERZEGOVINA
Sarajevo, Cineplexx, 26.09.
SLOVENIA
Ljubljana, TC Rudnik, 27.09.
Maribor, TC Ikona, 28.09.
Novo Mesto, Planet Tuš, 28.09.
Celje, Planet Tuš, 30.09.
CROATIA
Zagreb, City Center One East, 21.09.
When it comes to cultural institutions and other centers where additional film screenings will be organized, they will be free of charge, and tickets will be available for pickup at the box offices of these institutions. The following are the institutions:
SERBIA
Kraljevo, Kulturni centar, 28. 09.
Subotica, Euro Cinemas, 29. 09.
Čačak, Kulturni centar, 27. 09.
Šabac, Kulturni centar, 25.09.
Kruševac, Kulturni centar, 21.09.
MONTENEGRO
Herceg Novi, Kulturni centar PARK, 30.09.
BOSNIA AND HERZEGOVINA
Banja Luka, Pozorište Jazavac, 26.09.
Bijeljina, Centar za kulturu, 26. 09.
Tuzla, Narodno pozorište, 26. 09.
Mostar, Narodno pozorište, 26.09.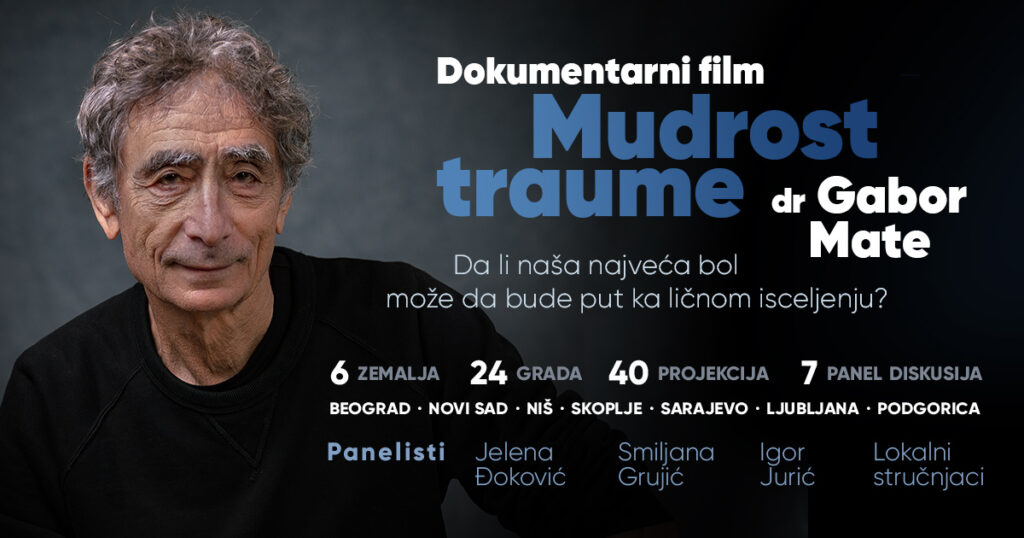 In "The Wisdom of Trauma," we embark on a journey with Dr. Gabor Maté, a best-selling author and recipient of the Order of Canada, to explore why Western society is facing an increased number of mental disorders and chronic illnesses. This film takes us on a cinematic journey with a man who has dedicated his life to understanding the connection between illness, addiction, trauma, and the society we live in.
In this film, trauma is portrayed as an invisible force that greatly influences our lives. It shapes the way we live, love, and perceive the world around us. Dr. Maté offers us a new vision: a society informed about trauma where parents, teachers, doctors, and society as a whole are not focused on suppressing symptoms and condemning but rather seek to understand the sources from which alarming behaviors and illnesses arise in the wounded human soul. He points us towards the path of individual and collective healing.
"Trauma is not what happens to you. Trauma is what happens inside you as a result of what happens to you," believes Dr. Gabor Maté.
The filmmakers pose the question of how individuals and society as a whole deal with traumas.
"When we started working on this film, we thought we were among the fortunate ones who had a carefree childhood. We believed that trauma was caused by bad things happening to people, really bad things like war, murder, violence, and the like… But as we learned from Dr. Gabor Maté, traumas happen to everyone," say directors Zaya and Maurizio Benazzo.
The premieres and screenings of the documentary film will also serve as a catalyst for a series of transformative workshops and engaging lectures led by Dr. Gabor Maté throughout the Balkans – in Belgrade, Banja Luka, Sarajevo, and Ljubljana. These events aim to empower participants with valuable insights and practical tools to confront trauma, foster emotional resilience, and create a healthier and more compassionate community.
Join us in this unique opportunity as, under the auspices of the Novak Djokovic Foundation, we come together to explore "The Wisdom of Trauma" and embark on a journey of self-awareness, healing, and growth. The film screenings, as an introduction to the conversations and workshops that follow with Dr. Maté, promise to be an enriching experience that will leave a lasting impact on individuals and communities throughout the Balkans.
NDF partners on the screenings of "The Wisdom of Trauma" are Cineplexx and Volvo.