Camping "" from the old-fashioned sleepaway variety to sports camp, science camps space camp, camp for disabled children, religious camp, camp for refugee children""is one of the greatest learning experiences that you can offer your children.
I always wanted to go to sleepaway camp when I was a kid. Camp Crystalaire was about five miles from where my family has a summer cottage in northern Michigan and my friend Kate attended for several summers as a pre-teen and teen. She would tell grand tales of kissing boys, improving her sailing, hearing ghost stories over the campfire and going on fun group hikes into the sand dunes near Lake Michigan. I begged my parents to go but they never let me.
I did, however, get to go to swim camp for a week at University of Michigan in Ann Arbor when I was 14 years old. It was a learning experience for me, as I had never been away from my family for more than a night before. I was homesick and spent a lot of time, when not in the pool, crying. Looking back, it seems a bit silly, as we only lived less than an hour away and I had spent a lot of time as a child in and around Ann Arbor. But that first taste of independence was scary, a bit unnerving, and yet ultimately a great growing experience for me (though it didn't in the end make me a better swimmer).
Camp""from the old-fashioned sleepaway variety to sports camp, space camp, camp for disabled children, religious camp, and every camp in between""is one of the greatest learning experiences that you can offer your children. Amy Silver Kramer, a former television news producer who now works in PR in Washington, DC, says that summer camp was one of best memories of her childhood and teen years. "Everything was great about camp," she enthuses about her summers spent at Camp Che-Na-Wah, in the Adirondack Mountains in upstate New York. "The spirit, the way it fostered independence, the skills you learned""both how to do stuff like water-ski and play tennis as well as how to live in a group setting without parental supervision. The most important lessons I learned there are all the important lessons necessary to have a good life: patience, confidence, cooperation, sharing, empathy, teamwork."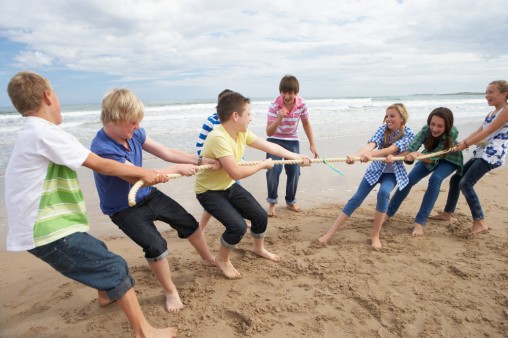 According to Peg Smith, the CEO of the American Camps Association–which works to preserve, promote, and enhance camps and the out of doors– camps provide young people the opportunity to have authentic relationships and 'practice' being an adult in a safe community. "This is especially important since access to such communities is diminishing," she says. "Many of us learned such lessons playing in our neighborhoods but many of those neighborhoods no longer exist." She says that on average children in America today, children have a radius of play of less than 500 feet whereas camps typically utilize 146 acres of land. "For many kids, camp is the first real access they have to nature, " she says, "and ACA camps are constantly working to incorporate environmental awareness into the day-to-day lives of campers."
Technology, though fantastic in many aspects, had also created a generation of kids addicted to devices. The ACA estimates that on average, children in America spend seven hours a day in front of a screen and that play has decreased by 25% in the last several years. Luckily""at least in the US""overnight camps are a growth industry, with a 17% increase in the number of camps in the last five years while day camps have increased by 40%. With 74% of ACA camps not allowing personal electronic devices, it means kids really get a sense for the outdoors and creative play and learning. "With or without technology, what kids need for success is to learn by doing," says Ms. Smith. "Kids need more time in nature. Kids need real relationships. These are the things that children gain from quality camp experiences. These are things they have always needed, now possibly more than ever."
Elizabeth Orsini Nelsen, who grew up in Washington, DC and now lives in London, says she learned many important lessons when she attended camps as a child including independence and learning skills like coping. "At Camps Letts, which was a YMCA co-ed camp in Maryland, you could either a horseback riding or water skiing intensive program – I picked the latter, and went out on water-skis most days, despite jelly fish in the water, one of my biggest fears," she says. "In my second year, an 18-year old counselor died tragically in a boating accident one night. I learned a lot about mortality, grief and coping with real sadness. I didn't know her very well, but some of my cabin mates did, so I also learned how to be supportive, and how to deal with really uncomfortable situations."
Some camps are specifically targeted at sports or the arts. Interlochen Summer Camp""also in Northern Michigan""is a world-renowned arts camp (famous summer camping alums include actress Felicity Huffman, singer Norah Jones and Peter Yarrow from the folk group Peter, Paul and Mary). Chris Hintz, Interlochen's marketing and communications manager says the camp is a wonderful way for young artists to broaden their perspectives on art and creativity. "Students spend their summer at Interlochen because they love their art – whether that is writing, dance, filmmaking, music, theatre or visual arts," he says. "It can be a very eye-opening experience to go to camp. Kids and young adults get to escape their daily routine and their usual peer group and experience new people, new cultures, and a new place. At Interlochen Arts Camp, they find students from 40 different countries and nearly every U.S. state and territory."
Camps aren't just on the rise in North America; there are more and more camps opening up across Europe, Australia and South Africa (one cool one I came across there is a conservation camping program where teens join professional conservationists in protecting wildlife). For parents who want to send their kids to camps, Ms. Smith from ACA (which run the findacamp.org website) recommends that its good for parents and their children to prepare for camp together, that they talk over their concerns and teach their kids that homesickness is natural and not fatal. She also points out that its good to know the education and career backgrounds of the camp's director and staff and that the camp's program philosophy compares with the parents' goals and the child's needs. "The only negative about camp is that not everyone has the opportunity to go, either due to cost, proximity, priorities, and so on," says Ms. Kramer. "Also, camps that are not well-run might not be so great – supervision is important, attention to the details that allow for health, safety, are really important and not every camp is as successful in that way as mine was. I know there are people who went to camp and didn't love it, but honestly I can't think of any person who wouldn't benefit from a summer at a good camp."