The famous Canadian professional ice hockey player donated $50.000 to NDF's account, while the Serbs from the island in the Pacific showed the true meaning of the word "Aloha"
Have you ever wondered what the word philanthropy actually stands for? We have all heard it so many times, but do we know what it means? Philanthropy can be defined in many ways. The word comes from the Greek language, meaning "love for humanity." Modern definitions include the concept of voluntary giving by an individual or group to promote the common good and improve the quality of life – without any benefits for those who do good. The synonym for philanthropy can be humanity, another term that can be defined as respect for dignity, identity and life of a man.
These terms may seem abstract for some, since we live in the world where people are becoming more and more self-centered, struggling to survive, barely having time and money to provide basic needs for themselves and their families. Unfortunately, in such a situation helping others is the last thing on their mind. Sometimes it also seems that people can be so distant and cold nowadays. They show almost no compassion and understanding for those in need. Luckily enough, this is just a first impression. The reality is much brighter. In fact, there are positive examples in the society on every corner, everywhere you turn. It's just that we need to search for this light and joy. It doesn't come out so easily, but when it does, the world becomes a better place.
Good news always appears in a shy, quiet and unobtrusive way. You can't find good news on the front pages of newspapers or websites, but we can still read about it. Good news proves philanthropy is not just an idea, but reality. When we dig a little bit deeper and want to discover more, all of a sudden we become aware that there are good people and good news everywhere in this world. From Boston in the USA to Honolulu, in every part of our planet. We just have to recognize and appreciate them, talk about it whenever we can. It's important to spread positive energy and inspire others to follow good example. It's important to show that little things can mean a lot to others. It's important to inspire people to act. And to help those in need.
Here are some examples of good news…Maybe you already had a chance to read or hear about them from the media?
[divider]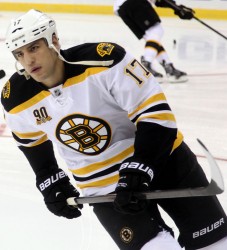 The very moment he heard about the floods in Serbia and Bosnia and Herzegovina, Milan Lučić called his accountant and informed him that he wanted to donate $50,000 to NDF. The famous Canadian professional ice hockey player demonstrated his bigheartedness, asking for nothing. His only motive was to help, to be there for the others.
Lučić, currently playing for the Boston Bruins, didn't think twice after he saw on TV the images of children in reception centers who lost their homes, schools, kindergartens, happy childhood, because of the floods. He said he would not forget their worried and sad faces. He simply had to do something for them.
Flooding in Serbia has caused appalling damage and endangered many people and children. Although I live in Canada, it wasn't easy for me to just sit and watch news on TV of what was happening in Serbia, the homeland of my parents. I immediately decided to donate money for flood victims. I wanted to help as much as I could. I have friends whose families live in flood-hit areas, and I tried to support them in these difficult moments – Milan Lucic
Milan has chosen to donate money directly to our Foundation.
Novak decided to donate a large sum of money after winning the tournament in Rome a few months ago. I respect and admire him very much. "Novak Djokovic" Foundation is also doing a great job, helping the little ones to have a better childhood. You believe in their dreams. Thus you will always have my support.
[divider]
Another interesting and inspiring story came right out of the Pacific. Although they live in a heaven on earth, the Serbian community in Hawaii wanted to help children who are facing the worst flooding on record in Serbia.
In the first week of June, a small group of people organized three charity events entitled "Aloha-Pray for Serbia" and raised 10 thousand dollars to help and support the flood victims. The main event was a charity tennis tournament, held on June 5 in an exclusive country club "Pacific Club" in the capital of Hawaii, Honolulu. In cooperation with NDF and the best tennis players in Hawaii, the Serbian community organized a tennis clinic and a doubles match for tennis fans and people who love and care for Serbia.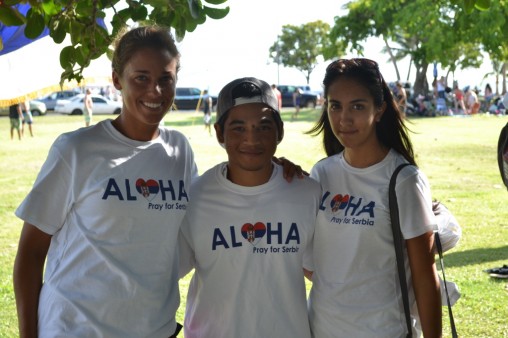 Several companies from Honolulu responded to the call and donated funds, such as Wealth Strategy Partners, John Lang La Salle and the Pacific Club. Similar events were organized at Kakaako beach and Ala Moana beach park in Honolulu.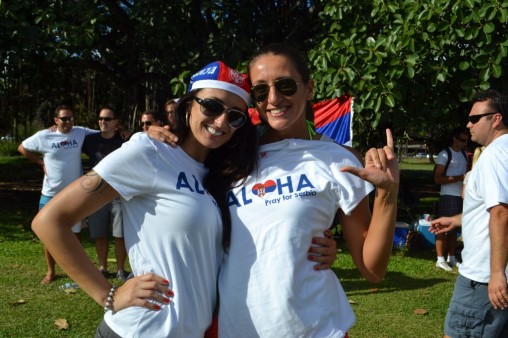 The Hawaii Islands are located in the Pacific. They are known for mild, tropical climate, natural beauty and hospitality of the local residents. This American state is one of the most visited tourist destinations in the world. There is also a special spirit of solidarity and humanity, which is reflected in the word "Aloha".