Twelve  year old Harrison Saladini, no 1. player in NJ by USTA ranking, is a member of MENSA since the age of  five and one of the youngest worldwide member of Intertel  (International Society of Intellectually Gifted). For our blog, he explains why not only is tennis a way of life, but a belief system.
From the moment Harrison Saladini picked up a racquet, the passion for tennis was clear.    On more than one occasion, he has described the court as a place where he feels free and completely at peace.  This may seem counterintuitive considering the enormous pressures youngsters face not only on their bodies but also on every moment of their time.
To me, tennis is a driving force, a channel for emotion, an underlying quest for excellence that demands just a little more each and every day and settles for nothing less than the very best you can be.  There is no cover and there are no excuses, it is combat where only one will survive.  Most importantly, it is a community of other players and coaches who share this ideology, says Harrison.
Harrison practices five-days a week and has tournaments  most holidays and weekends.  Given it is a year-round sport, there is very little down-time  for a 12-year-old.  Yet, he greets each day with the same determination and enthusiasm for his training and academics as the day before.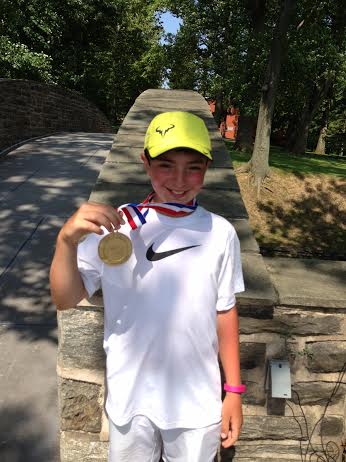 Since the very first day, I knew  that tennis was no ordinary sport and that the challenges would be many but the rewards most worthwhile. Tennis not only has kept me in optimal physical condition, it has sharpened my focus and heightened my emotional and mental acuity.  In so doing, I have learned many valuable lessons such as the tremendous power of composure, persistence even for seemingly unachievable tasks, the setting of short and long term goals, and an unyielding work ethic, he explains.
Harrison has very high aspirations both academically and athletically and takes his responsibilities very seriously.He has earned many academic awards such as The National Social Studies Award three years in a row including a perfect score in 2008 as well as recognition for outstanding achievement on a multitude of National exams.  He has also earned recognition for his tremendous integrity and honesty including academic honor and kindness awards as well as a good sportsmanship award at the USTA National tournament this past August. To hone his creative skills, he studied theater and voice since the age of five and had the great honor of being one of five children chosen to sing in the 2012 Kenny Rogers Christmas concert.
As a Mensan since the age of five and lifetime inductee to Intertel, 14-hour days are typical and working hard on and off the court is a daily reality.  As a result, Harrison says he  has  learned to be  impeccably organized and self-motivated.  By making the very best use of his time, he has not only learned to be highly efficient but, to never take a single minute for granted.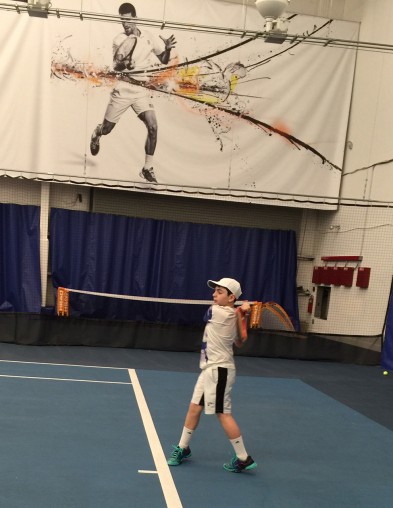 Tennis has taught me the true meaning of sacrifice and to appreciate not only my success but to learn from my setbacks. Whether I hit a winner or ace a test, the court has led me to the very best I can be,  he says.
Young  Harrison Saladini trains with  his coach and mentor Sergei Igel who not only trains and instructs him but also imparts invaluable wisdom.
As an inspiration, my coach regularly idealizes my role model, Novak Djokovic, who embodies the very essence of a champion not only athletically but, as a person. Novak is a  tremendous example not only as an athlete but as a person of the highest integrity. Tennis is at its very best when it is being enjoyed not only by the players but by all who embrace the sport and  Novak, always brings a smile to the court!