Projeta Brasil is an application that enables anyone with a smartphone to report abuse, which made a significant difference during FIFA World Cup.
Bringing much-needed attention to the 'Projeta Brasil' Smartphone application and the legacy of the 2014 FIFA World Cup in Brazil. The transformative social impact of football's 'greatest show on earth' is still being felt to this very day thanks to UNICEF's 'It's in Your Hands to Protect Our Children' Campaign and the 'Protect Brazil' smartphone application aimed to combat the social ills faced by the Brazilian youth.
From the 1960's onwards football has become a pillar of the Brazilian identity with a 95% of Brazil's population tuning in to watch the 'Seleção' during the World Cup. A further 3.4 million fans from across the globe joined to create a dazzling spectacle of passion, flamboyancy and excitement whilst basking in the delightful South American sun. Browsing the FIFA documents regarding the event it is clear that this World Cup was more digitally interactive than those before, with the official FIFA application recently becoming the biggest sporting events app of all time with a record 28 million downloads. Furthermore, an impressive 451 million Facebook users were reached with official FIFA social content, while FIFA's Twitter followers surpassed the 16 million mark during the World Cup. Although today's digital culture receives negative press, as many feel that online platforms have damaged our ability to be truly social, there is no doubt that harnessing this culture for the improvement of society and the protection of others is a fantastic endeavor that should not be ignored or criticized. One such initiative was started during the World Cup in Brazil – 'Protect Brazil' (Projeta Brasil) – a smartphone application developed by the Brazilian Human Rights Secretariat with UNICEF, Brazilian civil society organizations such as Cedeca-Bahia, and ICSS Save the Dream, and the pro-bono software company IlhaSoft.
As the world's seventh wealthiest economy, the Brazilian Government has struggled to create a society conducive to stable youth development. 40% of the 60 million under-18's live in poverty; a statistic that cannot be ignored. Living in a state of anguish and motivated by sheer desperation, many children find themselves working in factories and are exploited for the sex trade. As the demand on the Brazilian economy increased in light of the forthcoming World Cup, Brazilian government officials expressed their fears of increased child prostitution and other forms of exploitation. Already at full capacity, in 2013, the Brazilian hotline 100, managed by the Brazilian Federal Government, received more than 250,000 complaints of violence against children, 29 cases per hour. Of these cases the main types of violence reported were negligence (36%), psychological violence (25%), physical violence (21%) and sexual violence (13%). Furthermore, although Brazilian federal law prohibits children younger than 16 from working, there are approximately 3 million boys and girls, aged 10 to 17, who are victims of child labor. Thus, as part of the effort to protect young Brazilians from the potentially negative impacts that a World Cup could have brought to their lives, the 'Protect Brazil' application was developed.
Gary Stahl, UNICEF's representative in Brazil, has boasted proudly:
Did you know that Brazil is the first country in the world to provide an application that enables anyone with a smartphone to report abuse?
Launched in May 2014 and operating at least to the end of the 2016 Rio Olympic Games, 'Protect Brazil" enables anyone with a few pushes of buttons, swipes and taps to report an incident of violence, abuse or exploitation of children. The application is linked online to the closest police stations, children's charities and other emergency services that could be required. The development of interactively responsive infrastructure across the major Brazilian cities has the potential to be used as a template for expansion into other countries.
I understand that discussions are ongoing with Costa Rica, Jamaica, the Dominican Republic and Iran. Indeed, the ICSS Save the Dream executive director, Massimiliano Montanari, envisages the application being used in Russia 2018 and Qatar 2022. In an interview 1 week before the World Cup Final, Casmira Benge of UNICEF Brazil commented that, "So far the app has been downloaded over 30,000 times" and "more than 3,800 calls have been made through the app by ordinary people, which is good because it shows that everyone is involved in protecting children, though the number of calls show that too many violations occur." Furthermore, by the end of the World Cup the 'Protect Brazil' app had more than 40,000 downloads. Most cases of violence or discrimination against children were not reported due to fear, insecurity or simply a lack of information. The app takes the burden of reporting an incident  off the children who are often psychologically frail, physically degraded and tormented by the unfortunate toils of their daily lives, and places the power into our hands to protect their future, allowing them to fully develop their potential.
The app is a part of a wider UNICEF campaign, 'It's in Your Hands to Protect Our Children' aiming to raise awareness among the Brazilian public and foreign visitors about the vulnerable state of the majority of the Brazilian youth. The importance of knowledge-sharing by distributing educational outreach materials to hotels, bars, airports, taxis, and buses in the 12 host cities cannot be understated. On a wider scale, UNICEF's global initiative #ENDViolence is a three-year campaign aiming to spread awareness of protecting the most vulnerable segments of a country's population. Whether we like it or not, we are quickly becoming 'digitalized' people, often glued to our laptop or smartphone and this app is able to ride the wave of technological advancements to produce something truly noteworthy and life-changing for today's youth in Brazil, and perhaps in the future, across the globe.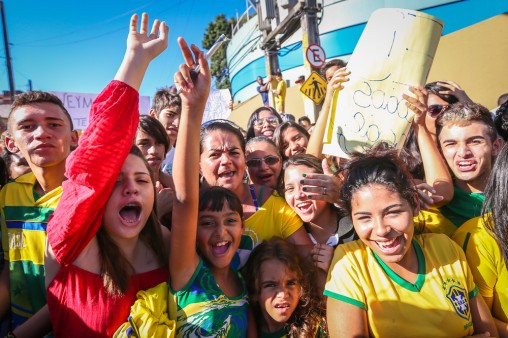 For more information about Proteja Brasil, visit  www.protejabrasil.com.br. The application can be downloaded from Google Play and the Apple Store and is available in three languages: English, Spanish and Portuguese.
[divider]
40% of Brazil's 60 Million under 18 year-olds live in poverty.
The app's interface shows a clear list of violence types that anybody with a smartphone can report in an instant.
Change is needed and online platforms using the newest technology is an innovative solution.