Sports can dramatically improve the social skills and confidence of autistic children.
In 2010, the Centers for Disease Control and Prevention determined that 1 in 68 children in the United States had Autism Spectrum Disorder (ASD). This was a dramatic increase from the previous decade, where 1 in 150 children exhibited some form of autism.[1] Organizations such as Autism Speaks and the Autism Society of America have increased awareness about the complex disorder that causes difficulties in social interaction, communication, and repetitive behaviors. As a result, parents have become more educated about the variety of treatments to ensure the health and development of their children.
Yet, many parents have overlooked the benefit of athletics. Kids may have had negative first experiences on a sports team and never reconsidered other physical activities. Autistic children can often be overwhelmed if they do not feel safe in their environment. However, sports can dramatically improve the social skills and confidence of autistic children. In many cases, sports provide uplifting experiences not available in the home or classroom. These activities can also improve attention span, which often translates into better performance in school. Studies have also shown that repetitive exercise can help distract from self-stimulating behaviors common among autistic children.[2]
It is important for parents to determine the right sport for their kids. Some team sports such as soccer, football, and baseball may not be ideal as they require a high degree of social interaction, focus, and communication. Individual sports may be more suitable. If a child is energetic, track and swimming are great outlets to release physical stress. Bowling and hiking are excellent activities for kids who prefer less strenuous exercise. These individual sports will allow autistic children to develop skills at their own pace. Coaches are also integral to a child's experience. Educated trainers should know how to tailor activities to the specific needs of a young athlete. Behavioral intervention programs are crucial but sports can certainly improve the health and self-esteem of autistic children.[3]
Sports can also benefit autistic individuals beyond adolescence. The nonPareil Institute in Plano, Texas is a nonprofit organization that has helped hundreds of autistic young adults make the transition into the workforce. A recent study determined that 90% of adults on the autism spectrum are unemployed or underemployed.[4] The Institute therefore provides technical training in high demand among software and engineering companies.[5] Staff members identify the talents of each individual and offer practical coursework not available at most traditional universities. The organization also features a state-of-the art campus where students enjoy a built-in community that provides support for a lifetime. The nonPareil Institute has been highly successful and plans to develop several campuses throughout the United States in the next decade.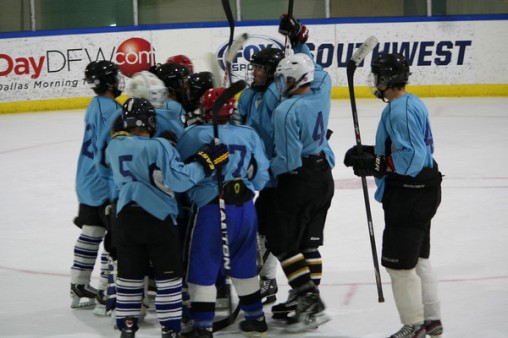 Dan Selec, the founder and CEO of nonPareil, has also recognized the power of sport to foster teamwork and community. Sensing that the students spent most of their days behind a keyboard, he decided to assemble a hockey team. The players struggled to learn the sport at first but Selec noticed the impact straight away: "To watch them stick with it, climb over that wall, and skate on the ice is a testament to their determination. Seeing them grow over time and gain a sense of achievement has been remarkable. It represents a whole paradigm shift for them." The team plays in weekly games and has already garnered support within the community.
The Dallas Stars Alumni Association (DSAA) is now a lead supporter of the nonPareil players. The DSAA is a 501(c) nonprofit led by former NHL players who donate their time and talents to organizations like nonPareil, which use sport for social good. This partnership is a model example of how sports can help autistic individuals stay healthy, develop social skills, and thrive on and off the ice. As awareness of autism increases, parents should identify local organizations that understand the rewarding opportunities offered by athletics.