Serbian Cesnica and Greek Vasilopita are important parts of the Orthodox tradition during the holidays, which make the whole family enjoy searching for the coin.
Since before I can remember, shortly after the clock strikes midnight on January 1, my family would follow a Greek Orthodox tradition and cut a sweet bread called Vasilopita for good luck. This "St. Basil's Bread" is in honor of the church's holy father Basil the Great. Here's the story that I've been told in my Greek Orthodox Church:
During a time of famine, the emperor put an excessive tax upon the people of Caesarea. The tax was such a burden that each family had to relinquish its few remaining coins and jewelry. Learning of this injustice, St. Basil the Great (who was the archbishop of Caesarea), came to the peoples' defense and asked the emperor to change the tax rule, and he did! He canceled the tax and told the tax collectors to turn over all coins and jewelry to St. Basil. St. Basil then baked all of the treasures into one large pita (bread) and cut a piece for each person in the town.
And just like the story goes, we cut our bread which also has a coin hidden inside. Pieces of bread are first cut for the Lord, St. Basil, and the house, followed by a piece for each member of the family ordered by age from oldest to youngest. Whoever receives the coin also receives good luck in the new year. It seems for many years my grandmother has been the one to receive the coin in her piece of bread. I never seem to be as lucky!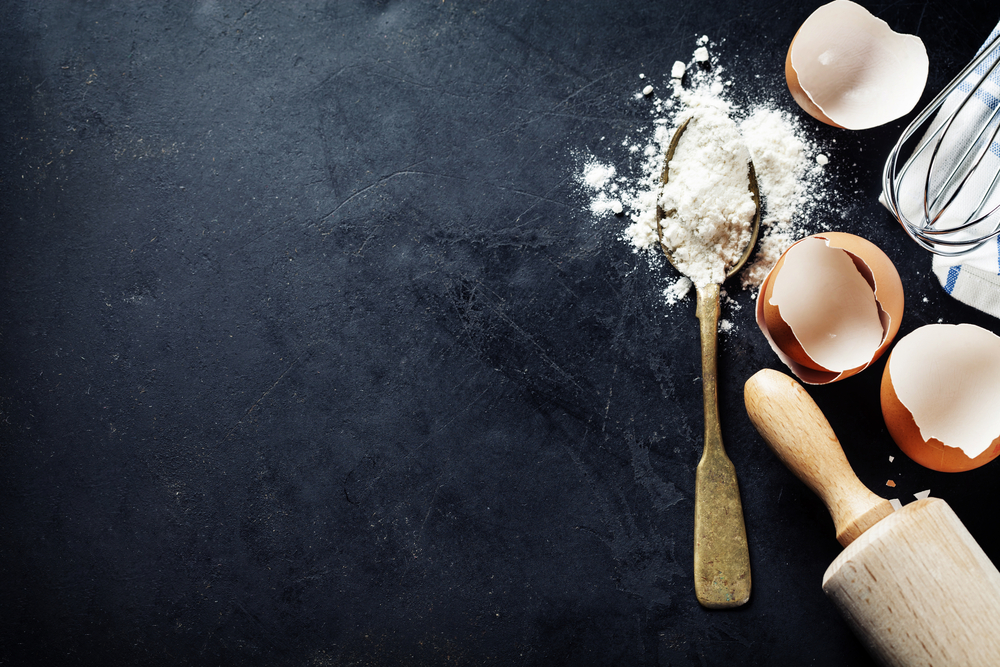 While it may be very "Western" of us to cut our bread on New Year's Day, in other Orthodox churches, the tradition is a little different. Serbian Orthodox Christians celebrate Christmas on January 7 and eat Cesnica (known as "money bread") on Christmas Day. The bread is broken, not cut, and whoever gets the coin baked inside is lucky for the rest of the year.
The breads also seems to be made slightly different across cultures. But no matter what the name, flavoring or consistency of the bread, they all have one thing in common – each contains a single coin bringing someone special good luck for the new year.
Maybe this year will be my lucky year!
Greek Vasilopita Recipe:
 1 cup (2 sticks) unsalted butter
 1 cup sugar
 3 extra-large eggs
 Grated rind of 2 large oranges
 Grated rind of 2 large lemons
 1/2 teaspoon crushed/powdered sour cherry pits (Arabic mahleb, Greek makhlepi)
 2 teaspoons crushed/powdered gum mastic (Arabic miski, Greek mastikha)
 4 cups flour
 2 teaspoons baking powder
 1/2 teaspoon salt
 1/2 cup milk
 1 egg yolk blended with 1 tablespoon milk
 sesame seeds
 blanched almonds
 a clean coin wrapped in silver or gold foil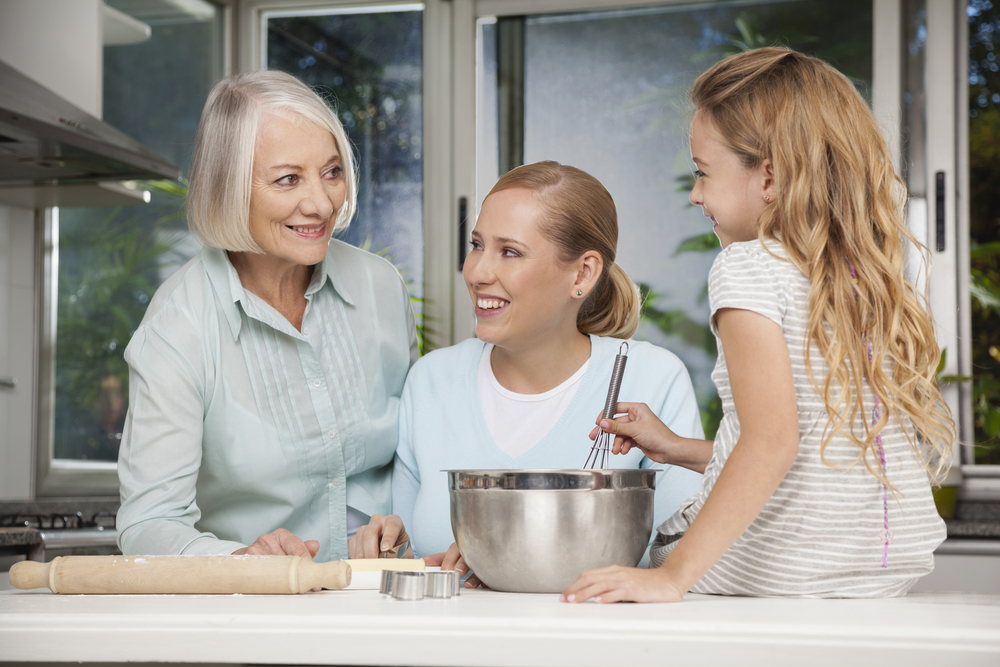 1. Preheat oven to 350 degrees Fahrenheit and thickly butter a 10-inch round pan.
2. Cream butter until it is light and fluffy with an electric mixer in a large bowl. Beat in the sugar until the mixture is light. Beat in eggs, one a time, beating well after each addition. Beat in orange and lemon rinds, and crushed/powdered sour cherry pits and gum mastic.
3. In a separate bowl, sift together three cups of flour, baking powder and salt.
4. With the mixer on low speed, gradually beat in the dry mixture alternately with the milk. The batter will be very thick. Using a wooden spoon, gradually blend in the remaining flour, and beat well until it becomes completely smooth.
5. Spread the batter into the pan, press the coin into the dough until it is completely covered and then smooth the top (you can also secretly place the coin after it cooks by cutting a small slit and slipping it in the bottom of the bread). Brush the top evenly with the egg and milk mixture and sprinkle it with sesame seeds. Gently press the blanched almonds into the top to make a Cross and spell out the date of the new year.
6. Bake for 45 minutes, until it becomes golden brown. Cool in the pan for 15 minutes before removing it from spring form and thoroughly cool it before slicing.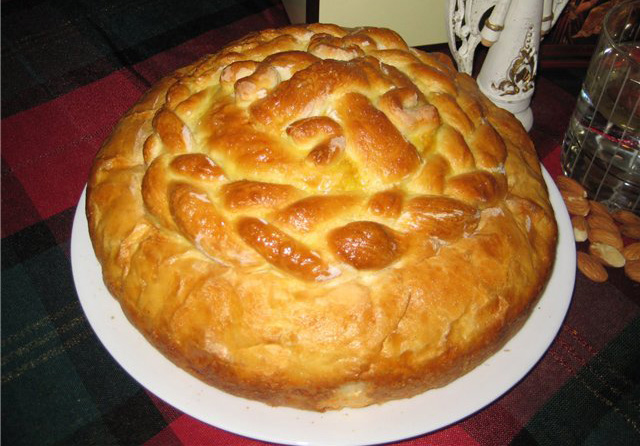 Serbian Cesnica Recipe:
 1/2 l milk,
 1 packet of yeast,
 2 eggs,
 pinch of salt,
 flour as needed (about 1 kg),
 silver or gold coin.
Dissolve yeast in little lukewarm milk. Beat one egg and add to yeast. Add salt and stir, while gradually adding the flour and pouring the remaining lukewarm milk until you get a smooth dough.
When the dough is stiff enough, start kneading it. Cover well kneaded dough with a clean cotton canvas cloth and leave it to rise.
As soon as you notice the dough rising, place it onto kneading board and gently knead again. Dough for Cesnica should not rise completely, only partially.
While shaping, place a coin inside the dough. If you do not have a silver one, you can put a coin made of some other stainless metal.
Place Cesnica into a greased baking pan.
Using edges of a small twig, make some patterns along the top surface of Cesnica. Use a soft brush to spread the beaten egg all over patterns and surface areas
Bake in a preheated oven until Cesnica becomes golden brown. The initial oven baking temperature may be higher, but later reduce it.
Wrap baked Cesnica in a clean white napkin, leave to stand for a while, and bring it to the table while it is still warm.