Sport has a unique convening power and it can help direct greater attention to the most at risk and vulnerable in our communities, particularly disadvantaged children.  (Novak Djokovic speaks to the UN)1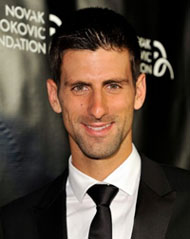 April 6th 2014 marks the very first International Day of Sport for Peace and Development. This is not a day to celebrate the accomplishments of the elite athletes of the world; this is a day to recognise the far reaching benefits of sport and to get the world moving physically and metaphorically. This is a day about sport for the individual, sport for the family, sport for the community and sport for society.
Sport is such an obvious way to reach people around the world as well as pass on so many important messages to reduce and neutralise conflict as well as promote peace and educate. And this is before you consider the benefits of sport itself, whether the physical benefits and sport's role in preventing lifestyle diseases or the mental well-being that can come from the endorphins of exercise, the thrill of a win or the community of a team.
Sport and indeed competitive sport is celebrated in many different ways around the world and it is perhaps no coincidence that April 6th was the date of the opening of the first modern Olympic Games in Athens (in 1896). The Olympic Charter decrees the practice of sport to be a human right2 and despite the glitz and glamour, grit and determination of the competition, sets its goal as: 'to contribute to building a peaceful and better world by educating youth through sport practiced without discrimination of any kind and in the Olympic spirit, which requires mutual understanding with a spirit of friendship, solidarity and fair play.'3
In the sometimes cut throat and corporate world of professional sport today, it could be hard to see this spirit shine through. With careers, medals and sponsorship on the line it would be easy to make sport a dog eat dog world. Jacques Rogge, President of the Olympic Committee, addressed the United Nations General Assembly alongside Novak last August prioritising and placing 'sport at the service of humanity'4 :
The true worth of sport is not determined by words on paper, but by how sport is practised. Stripped of its values, sport is combat by another name. Sport with values is a gateway to cultural understanding, education, health and economic and social development.5
Part of sport's reach can be put down to the athletes themselves who have a captive audience of sometimes hard to reach groups. As role models, advocates and spokespeople, they play their part and Novak touches on this duty in his address to the United Nations General Assembly:
When a renowned athlete speaks out he or she reaches a large audience. That is a serious responsibility. When they encourage kids to dream big and work hard we can make a tangible difference in their lives helping them reach their full potential.6
The International Day of Sport for Peace and Development holds a special place in the heart of the Novak Djokovic Foundation. Growing up against a backdrop of conflict, Novak knows only too well the vital role that sport can play and wholeheartedly supports its values and goals in: teaching self-discipline and goal setting, in confidence building, in connecting people and communities as well as being used as a communications platform. Once it has reached people, sport can be used as a platform for public education and social mobilisation as well as strengthen individual capacity through empowerment, motivation and inspiration.7 Novak's speech is a personal testament to the power of sport and those who supported and inspired him in his pursuits as well as his endeavours to further spread its values and spirit.
Here is Novak's speech in its entirety:
So despite the competition and adrenalin fuelling the desire to win, there are countless examples week in, week out of professional athletes demonstrating the values of friendship, solidarity and fair play. Sport has consistently demonstrated its role in pushing us to the brink of physical possibility and yet unflinching humanity in the face of brutality. It can restore and rebuild societies and individuals and can remind them of who they really are and what is truly important.
Christmas Day 1914 will always be a classic example of the power of sport as the German and English soldiers put down their weapons and held a football match to celebrate the festivities. In the trenches where civilisation as we know it was said to be lost, sport restored that, if only for a day.
The 'Indo-Pak Express' is another example where sport can be used to set aside differences. Indian tennis player Rohan Bopanna partners Pakistani Aisam-Ul-Haq Qureshi despite deep conflict between their countries. They have set up their 'Stop War, Start Tennis' campaign in an effort to bring their divided countries together. They are currently negotiating to play a tennis match on the Wagah border crossing.
As the founder of the Olympic movement, Pierre de Coubertin believed that 'peace could only be the product of a better world, a better world could be brought only by better individuals, better individuals could be developed only by the give and take, the buffering and battering, the stress and strain of free competition.'8 Let us all strive to be better individuals through sport to contribute to a better and more peaceful world.
What will you do to get moving?
Featured image credit: vramak / Foter / Creative Commons Attribution 2.0 Generic (CC BY 2.0)