Woman whose desire to help others knows no boundaries
Meet our Dijana – a blind facilitator who is a part of the team that manages the "Support, Not Perfection" program: "I am here to help parents and their children to overcome their limitations".
We often forget about the important things in our lives, namely our health, as we are preoccupied with daily worries and little things that trigger anxiety. We concentrate on things that appear to us as "the end of the world", even though they can be remedied. While on a subconscious level, we place our health and health of our family at the bottom of the priority list. However, health is one of those things we become aware of when it is no longer there anymore.
Unfortunately, life events have deprived some parents of their child's health and led them on a path of constant struggle. Novak Djokovic Foundation recognized that those parents are in need of additional support, which is why it launched workshops for parents of blind and weak-eyed children as part of its programme "Support, Not perfection". These workshops are full of optimism, understanding and endless motivation for further improvement. However, there is also someone that makes these workshops so unique- the facilitator, Dijana.
You can consider yourself a lucky person if you get the chance to meet and be inspired by someone like Dijana at least once in a lifetime. Dijana Omerdic is one of the modest heroes of Serbia.
She spent her childhood enjoying all the colors and images of life. However, due to a particular type of glaucoma, she lost her sight gradually. A long period of struggling and getting used to the situation followed for her and her family. Today, Dijana counts 15 years since she has lost her sight completely. However, she did not let that stand in  her way when it comes to  her wishes and dreams. She devoted herself to studying and exploring and selflessly directs her knowledge and experience at helping others. As she says – you can find an advantage in any life's challenge. This is why she joined the Novak Djokovic Foundation and became a facilitator for the "Support, Not Perfection" program. Now, she helps parents of blind and visually impaired children cope with all parental challenges.
"Our team wants to help parents show their children the best version of themselves. I have an experience of a person who cannot see now, but who could see during  a period of  her  life. That is why I can approach their problems from both perspectives, which I think  they appreciate  very much. Parents  leave each workshop  feeling more  satisfied because someone listened to them."
Dijana facilitates the workshops along with Mirjana Trkulja, who is a psychotherapist and psychologist. With the combination of Mirjana's professional knowledge and Dijana's life-experience, the parents receive all necessary information, tools, and recommendation for how to understand their children's situation and how to help them.
"Parents ask numerous questions. They are mostly about how to deal with difficult emotions, how to understand their children and how to react. We also talk about feelings of guilt, because parents often wonder whether they gave it their all and what else they could do for their child. Sometimes there are difficult emotional moments at the workshops, but optimism and joy always triumph. Especially when parents notice changes in their children because of the new knowledge and skills they applied. Dijana contributes a lot to that atmosphere! It means a lot to parents when they see Dijana who is blind, but still has a fulfilled and happy life," says Mirjana.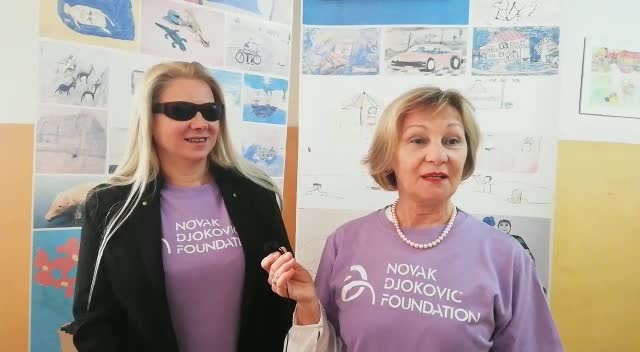 However, Dijana does not help just the parents. Her persistence and love for life regularly motivate our whole team. She inspires us to push our limits and bravely face all challenges.
"Parents of blind and weak-sighted children often fear for the future of their children and how will they find their way in the world. That is why I want to encourage them and offer them assurance. The feeling that I can help someone and contribute in this way means a lot to me. At night, I fall asleep satisfied knowing I did something good and noble for someone else."
Pablo Picasso said that the meaning of life is to find your gift and that the purpose of life is to share it with others. So push your limits, open your heart and share your light with others. Remember the story of Dijana, Mirjana and parents they help – because that is a story about real heroes.
***
Support, Not Perfection program  has been active for two and a half years, and the 5th  cycle started in March. In addition to attendees, the workshops also include 34 facilitators and 22 tutors. The tutors organize activities with children, while parents are at the sessions. The goal of the programme is not to make perfect parents/guardians out of the participants, but to empower them with knowledge, skill, and support they can rely  on.