Whether children write letters to Santa or send him emails, they wish the same: they want Santa to bring them presents and make them happy.  

Story 1:
I believed in Santa Claus as a child. I used to put a glass of milk and cookies on a table counter, waiting for him to come. I staid up late, hoping to see him come out of the chimney. However, my hopes were shattered because he didn't come. I fell asleep, almost crying. In the morning everything was so much better, since I was amazed at so many presents under the Christmas tree. Santa Claus really exists! – I convinced my parents. I also remember I tried to be good during Christmas time because I didn't want to get a box of coal.
Story 2:
Every New Year's Eve my sister and I spent standing in front of the door, eagerly waiting for Santa to ring the bell, and to bring us the presents. It was a tradition in our home. But, we never met him personally, since he was always too late, and we were sooo sleepy. In the morning we would wake up and saw our favourite Barbie, lots of Kinder chocolates and other wrapped up gifts under the three or in front of the door. So, we were never angry with him for keeping us wait for him so long, although our mother tried to comfort us by saying he was "so busy taking all those presents to all the kids in the world". Eventually, we figured out that Santa was our daddy, who had so much trouble to sneak out of the appartment, leave the presents on the right spot, and then to appear on time to see what Santa Claus had brought for us. These memories mean a lot to me.
Story 3:
Two days ago we sat in the blue room in our kindergarten, and my friends talked about Santa Claus, New Year's Eve, Christmas. They were so happy and busy making lists of presents. John knew he would get "red Power Ranger", Mila wished for "Skelita Calaveras Monster High doll", Tea and Maya wrote down they want new shoes and a computer…I silently listened to them. But, when they asked me what I should get from Santa, I just said: "a new dress for Masha". Masha is my doll. I got it three years ago, but I still keep this present and take good care of her. I would like to have this nice, red dress, with shining stars on it. Somehow I know mommy and daddy can't buy it for me, so I have to cross my fingers and hope for Santa. But, if he forgets about me this year, I will not be sad. I am sure he will bring it some other time. He never lets kids down.
Today's kids mostly spend time in soft play centers or they are stuck in front of television, DVDs and computer games. They live in a technologically advanced era and in no time they can learn how to use the latest iPad or iPhone model. Some children have a long wishlist for Christmas, others only want their family and friends to be happy. However, there is one "traditional" thing that connects all of them – they believe in Santa Claus. Three stories from above show it – the first two are from teenagers who remember their childhood, and the third one is from a preschooler.
Whether children write letters to Santa or send him emails, they wish the same: they want Santa to bring them presents and make them happy. Most of us still remember New Year's celebrations from our childhood. After the show was over, we waited in the lobby for our turn to take photos with Santa, not letting go the gifts we got. The similar thing happens today. Children queue to meet Santa, although theatres have been replaced with shopping malls. Even the way we celebrate Christmas and New Year slightly changed, the jolly old man in red suit remains what he has always been: the bringer of joy, children's trusted friend and a symbol of hope that one day all their dreams will come true.
Kids usually ask Santa to bring them toys. However, there are children with no material things on their wishlists. Instead, they want Santa to help them and their families to overcome tough and difficult situations, pain and grief. Here are some of these heartbreaking letters.
Please Santa, I don't want any toys. I don't want anything. I just want my baby sister to get better. (Michael, 5)

Santa just tell daddy we all miss him. I'm brave and I take care of mommy like he said. Even you can't bring him back, but tell him I love him so much, Santa. (Ivana, 6)

Santa, I just want my mom to be happy. (Mark, 5)
Who is Santa Claus?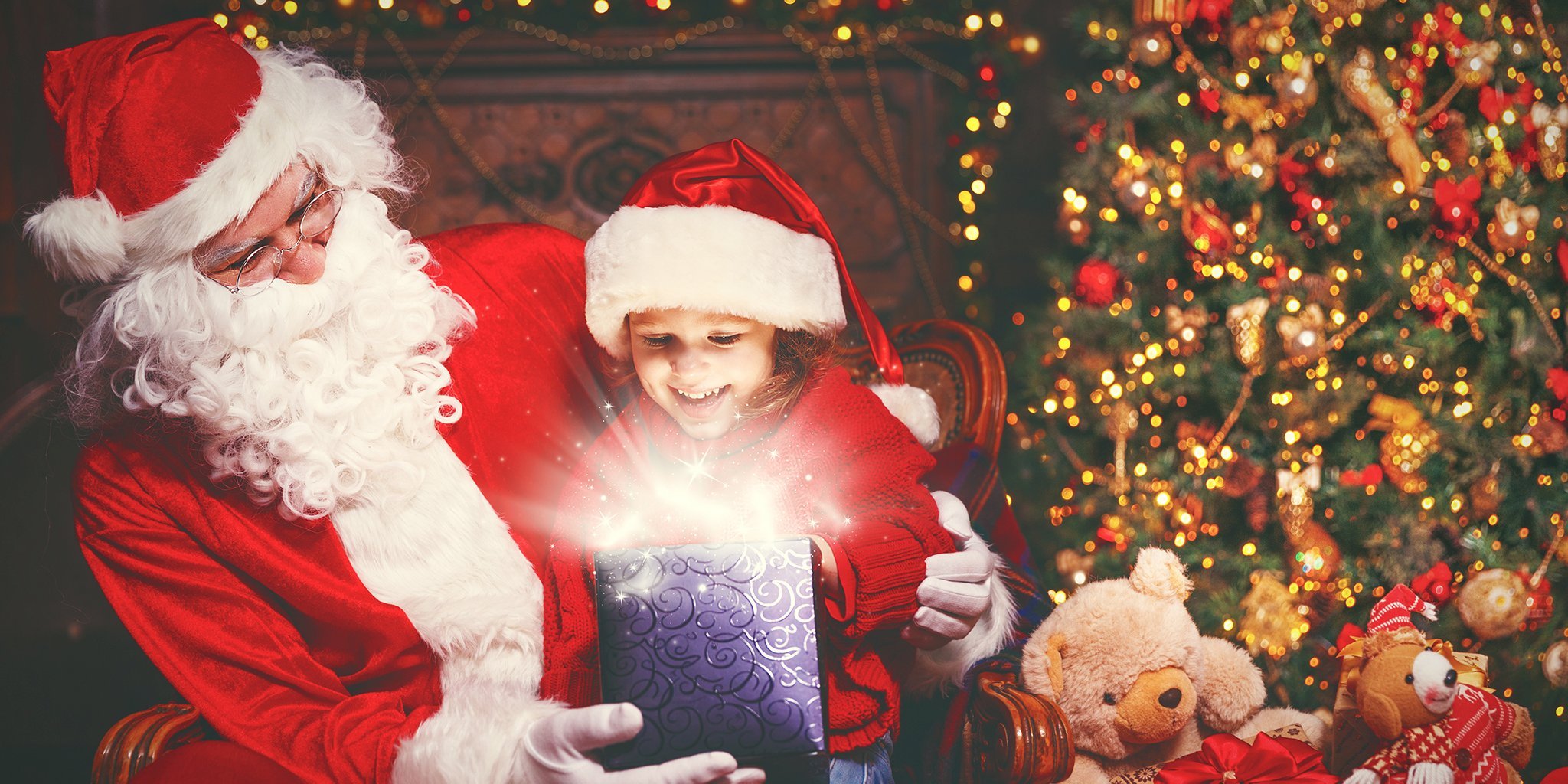 Santa Claus is a fantasy figure who is said to bring gifts to children on the night before Christmas, on St. Nicholas' Day or on New Year's Eve. Various cultures, religions and nations use different names for Santa. However, he is generally known as a jolly, white-bearded man in a red suit, living on the North Pole, who carries a bag full of gifts for children. Santa Claus has been believed to make a list of children throughout the world, categorizing them according to their behavior (naughty or nice) and to deliver presents, including toys, and candy to all of the well-behaved children in the world. He accomplishes this with the aid of the elves who make the toys in the workshop and the reindeer who pull his sleigh.
Writing letters to Santa Claus has been a Christmas tradition for children for many years. These letters normally contain a wishlist of toys and assertions of good behavior.
Santa travels around the world on a flying sleigh pulled by reindeer. Each of them has its own name and the most famous is Rudolph whose luminous red nose guides Santa's way. Santa usually waits until children are all asleep, and then enters homes via the chimney and leaves presents for the kids in stockings, boots or under the Christmas tree.
Why is believing in Santa good for your kids?
Parents are often in doubt what to tell children about Santa Claus. Is it good for them to believe in Santa? Or is the legend about him something that should be avoided? Some parents refuse to lie their kids about the man who does not exist in reality. Others, whose little ones do believe in him, are afraid to face the consequences, such as children's disappointment, when the truth about Santa is finally revealed.
Decide about all this as a family. Whether this involves the husband and wife or perhaps older children, let everyone have a say.
The Santa legend is harmless. Parents who focus on whether they are lying to their kids are missing the point. Besides, it's possible to answer your kids' questions for a time without bending the truth.
Don't worry if your child starts to have doubts. Most kids will, eventually, figure out the truth.
Some parents worry that learning the news about Santa Claus could cause significant emotional damage. Not so, psychologists say, at least not that anyone has proven.
Remember that creativity and imagination are important. Santa can engage the imagination and engender a sense of wonder and spread the message of generosity.
Furthermore, telling children stories about Santa can be a useful strategy for parents, as it encourages children's moral development. The belief that this joyous, white-bearded man wearing a red suit knows if you've been bad or good helps teach children the difference between right and wrong. Therefore, kids have a greater reason to judge their own behavior.
Santa Claus has a positive effect on children's cognitive development, their imagination and creativity, as kids are inspired to write letters to him and clearly express their desires. These fictional characters are particularly important for development of children three to five years old.
Experts add that the festive season of exchanging presents associated with Santa Claus helps develop a child's sense of charitable giving and their consideration of others less fortunate than themselves, thus reducing their egocentrism.
Most of the evidence suggests that children are actually quite positive when they find out that Santa is not real. When this happens, they are old enough to accept the truth and gladly pretend still to believe in him for the sake of younger siblings.
There is no particular age at which a child should stop believing in Santa. But, most do it by the time they are 7, although that is sometimes earlier if siblings are involved. When kids think about Christmas, they imagine waking up and running downstairs to see what Santa Claus left them under the tree. By telling children the truth about Santa Claus before they work it out for themselves, parents would diminish the magic of Christmas mornings that only exists in childhood, depriving kids of memories that would have last forever.
Things you might not know about Santa
Since 1985, Santa Claus' Main Post Office has received over 12 million letters to Santa and 700.000 Christmas cards.
Santa's Reindeer names are: Dasher, Dancer, Prancer, Vixen, Comet, Cupid, Donner, Blitzen i Rudolph.
Rovaniemi is the official airport of Santa Claus. Rovaniemi is the capital of Finnish Lapland and the home town of Santa. Apart from airliners, the Finnish post office planes also land here carrying thousands of letters that children (and adults as well) write every year to Santa.
You can send a letter to Santa Claus in Lapland using this address: Santa Claus, Santa Claus Main Post Office, FI-96930 Arctic Circle.
Santa Claus in Rovaniemi has his own football team. Santa performs kickoff at every home game.
Santa topped Forbes magayine list of the 15 richest people in the realm of fiction, thus leaving behind Richie Rich, Lex Luthor (Superman), Montgomery Burns (The Simpsons), Scrooge McDuck and others. This fictional character is said to have more than 1659 years, he lives at the North Pole and is engaged in toy and candy industry. His net worth is estimated as infinite. However, he has been absent from the list since 2006, because he was way too good to be part of competition.
Santa in different cultures and traditions
The children in Belgium believe in Saint Nicholas, who brings them their present. They also believe he rides a horse so they leave him hay and carrots and water for the horse just outside the house.
The Christians in China light their homes with beautiful paper lanterns. The children hang stockings for Santa to leave them there their gifts. Santa is called Dun Che Lao Ren.
Italy has the witch, La Befana, who brings gifts for the good children and punishment for the bad ones.
The Japanese decorate their stores and homes with greens. HOTEIOSHA the priest is like our Santa Claus.
In Finland, Santa is known as Joulupukki and in England as Father Christmas.
The Swedish people call Santa Tomte, and see him as a gnome who comes out from under the floor of the house carrying his sack of gifts for them. He rides in a sleigh drawn by a goat.
In Russia,  the children join hands and sing songs as they walk around the tree, specially decorated for New Years Day. They wait for DYET MOROZ and his helper SYYEGORACHKA to bring them their gifts.
French children leave their shoes by the fireplace to be filled with gifts from Pere Noel.
What do kids usually ask Santa to bring them?
Last year a survey in Great Britain has found that 'dad' was the tenth most popular Christmas list request for children. Thus youngsters gladly forgot the latest iPad, toy, sweets or new pet just to have a father who would take care of them.
Furthermore, most children would put a new baby brother or sister at the top of their Christmas list, closely followed by a request for a real-life reindeer. A pet horse was the third most popular choice, with a car at number four. The survey found children aged four to 12 years also wanted a dog (5), chocolate (6) and a stick of rock (7). Traditional hopes for white Christmas were represented by a wish for snow in eighth place, with sensible children also requesting a house.
Of the top 50 festive requests, 17 related to pets and other animals- donkey, chicken and even elephant. iPhones and iPads also appeared on the list, with some quirky children asking for the moon, a time machine or… beetroot. One child asked for Eva Longoria and another wanted Harry Styles from One Direction.
References: