Sports and education  can, in fact, go hand in hand and supplement one another.
DID YOU KNOW that when Shaquille O'Neal was drafted to NBA, he spent the first million he earned within 30 minutes. O'Neal then received a phone call from his banker, who scolded him, and told him that he would end up joining the list of former athletes who ended up broke if he continued with this kind of behavior.
That prompted O'Neal to go back to school and work more on his education.  He  completed his Bachelor degree, followed by his M.B.A, and lastly, his Ed.D. Today Shaquille O'Neal  is Dr. Shaquille O'Neal.
Shaq is also the successful businessman. He is the joint owner of 155 Five Guys Burgers restaurants, 17 Auntie Annie's Pretzels restaurants, 150 car washes, 40 24-hour fitness centers, a shopping center, a movie theater, and several Las Vegas nightclubs. He obtained knowledge and education that helped him protect all that he earned as a basketball player, and that made him a full, independent and intellectually strong person.
This is just one example how sports and education can and must go hand in hand.
The next story is about the basketball club "Sava" from Belgrade, Serbia. They're connected in a way, you'll see.  
All matches of the basketball club "žSava" in the category of cadets and juniors have been cancelled until further notice. The reason for this is that a big  number of players have  earned bad grades at school. Matches will be scheduled and played later on, only if they fix them. We are aware of possible consequences this decision might have for our club, but we're convinced that the academic success of the players is far more important.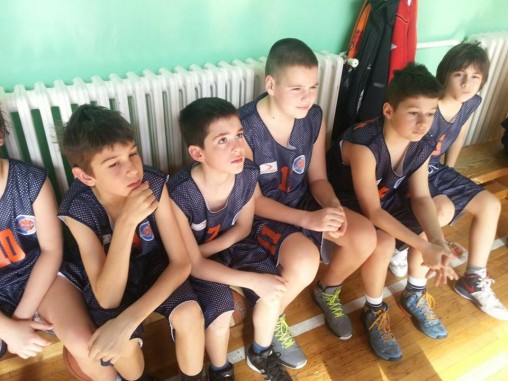 This warning on the board at the entrance to the basketball court was not a prank. The coach Milos Ristic was serious in his mission to raise awareness of these young athletes for the importance of education. "Only if you have good grades, you can be in the team, and deserve the status of the top basketball player", he said.
"Coach, I got a good grade in math! Instead of C, I now have an A",  speaks a blond boy with a bag over his shoulder, as he enters the club before the training session. There comes another one. He takes off headphones, and politely greets the coach.
His name is Ilija Gunjic. He has all A's in school and has taken two classes at once. He wants to finish school earlier, in order to enroll in college as soon as possible.There are many other whom we are proud of, like Milos Gvozdenovic, the second best young physicist in Serbia. Other players are doing just fine, as well. It shows school and sports can work together just fine  – says Ristic.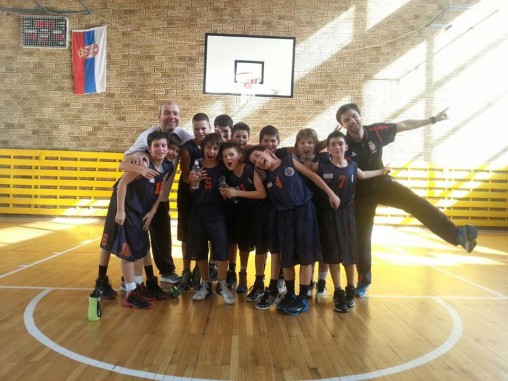 Coaches in the club keep a record  of  all 121 children  who are part of  the  club with detailed reports of their grades, behavior at school, school attendance, absences for the period before the quarter, after and at the end of the school year. They talk to each player about the things they have to learn at school, helping them to be better students. On the other hand, players collaborate among themselves, and function as a team. It is nice to see how older ones advise and help younger players while sitting at lunch, just outside the court after practice. There are no cell phones, no quarrels or conflicts. You can only hear something that has to do with trigonometry, math, geometry"¦ or basketball. Most of the time the kids do their homework at the club, and study together, in groups. This helps them to perform well when they go to school.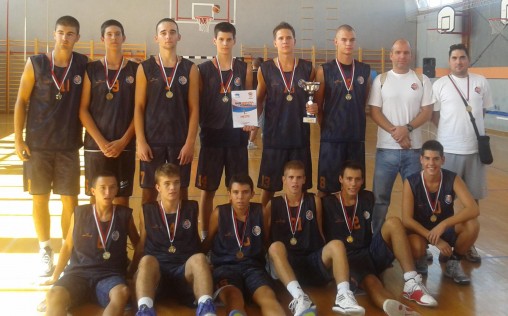 But, the education they take care of in this club is not just about fractions. Attention is paid also to proper nutrition, history, biology, life, family, respect, tradition, and music.
"When we heard that our players were listening to folk music in the locker room, we let them be. But, then one of the coaches took them to another room and played them music of Jim Morrison and the Doors. He wanted to show them that there are different types and styles of music, apart from the songs they have listened. We did not want to force them to change their mind. We just wanted to give them the opportunity to learn something new and then make their own choices".
So what is the whole point of this text? It is to show you that education and sports can, in fact, go hand in hand and supplement one another. Education is as essential for sport, as sport is for education. Sport teaches you many valuable lessons, but paired with education, it gives you the edge to succeed in  life. And isn't that what we all strive for?  
In the end, it doesn't matter how much money the basketball player will earn one day, or how popular he will be. More important is to get good education in time, and master various skills that will help you face any future challenges. Even if a talented kid plays one day for the biggest club in the world, and becomes enormously rich without knowledge to support all that, he can easily lose everything. In no time. Education will prevent such things. Education can only help.
In Shaq's own words:
"It is not about how much money you make. The question is are you educated enough to KEEP it."