Toeing the fine line between stress and excitement can be tough, but staying on the proactive side is crucial to job search success. HR simulation participants knew this, while they waited for their turn to enter the conference hall and talk to more than 20 HR managers from top local and foreign companies. It was the first ever Original Talks job interview simulation, held last month in Crowne Plaza hotel in Belgrade. The event offered them not just a realistic interview experience but also the chance to join CV database of some of the largest and most respected companies in Serbia.
Author: Dimitrije Djuric
Job interview simulation "Original talks" organized by the Novak Djokovic Foundation and the Original magazine, with nearly 200 attendees and special guests, was held last month, for the first time in Belgrade. On this occasion, more than 100 young job seekers enjoyed the opportunity to master their job interviews through simulated conversations with HR managers from 20 leading companies in Serbia and the region and pursue careers they were interested in. The goal of this project was to connect young people with HR managers and to inform them first-hand about all the details and steps relevant to the application, recruitment, selection and hiring process.
Furthermore, the event offered participants a realistic interview experience, and the chance to join CV database of some of the largest and most respected companies in Serbia.  In addition, after 40-minute process of simulated interviews, the job candidates received HR evaluation of their performance, along with a personalized feedback. It included specific recommendations to help them improve their communication and presentation skills in front of their future employers.
Jelena and Novak Djokovic welcomed the participants and made a great introduction to the Original talks. Their opening speech was full of great advices for those curious minds and open hearts. Once again both of them showed that they are always on a mission to help young people reach their full potential and achieve their dreams.
Some of their key messages were to go out there and try, because by trying you are one step closer to succeeding.
Be positive and put smile on your face. Be brave and don't be afraid to make mistakes. Emotional intelligence needs to be trained just like mental, physical and spiritual. It will make a difference when you are in the moments of pressure. Learn from mistakes, they are all lessons. Help others! Be authentic, don't pretend. Be grateful for everything you have. Bring passion to everything you do. BELIEVE! – said director of the Original magazine Jelena Djokovic.
Jelena also mentioned that "the magazine brings powerful and inspiring stories of people discovering and living their dreams with the aim to encourage people to become better versions of themselves".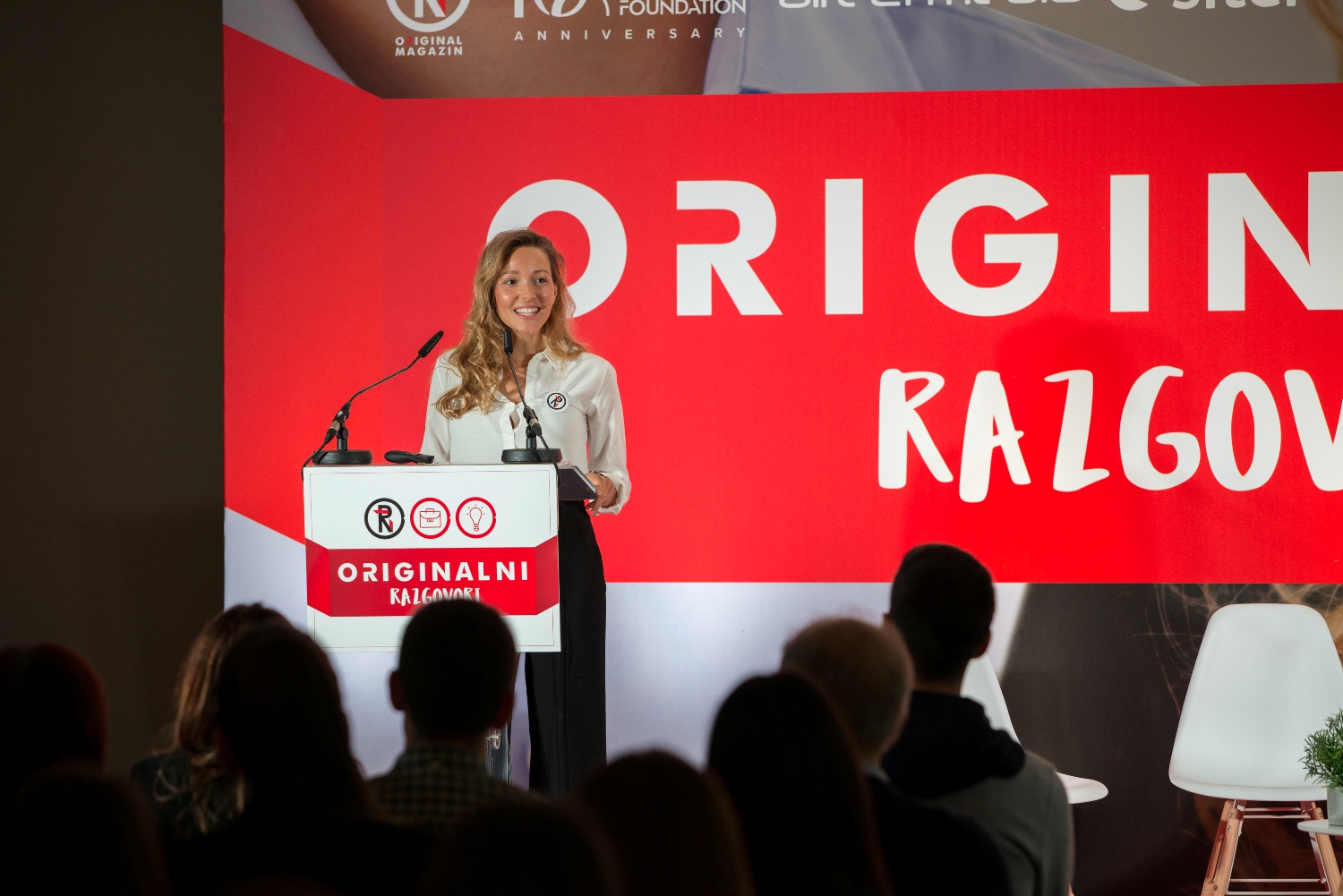 Young people were motivated by her speech. They heard how people should focus more on their education and skills and try to be more creative and innovative if they want to succeed while applying for a job, rather than stick to general requirements such as "be a team player" and "ability to work under pressure and handle stressful situations".
Our magazine and this project seek to promote among young people. I remember how stressful was to prepare for a job interview and come out as the best version of yourself in front of a recruiter. I've seen how nervous we can be in those situations. Therefore, we have designed Original talks to support young job seekers, enabling them to test their skills and get useful tips and guidelines how to write a CV and cover letter, as well as how to properly prepare for a job interview.  It's great that so many people are interested to participate in our HR simulation. This proves that we made a good decision with the project, and therefore we will continue to host similar events in the future, said Jelena Djokovic.
The most successful Serbian athlete, Novak Djokovic, also addressed the audience, highlighting the key elements of his personal and professional accomplishments – his character – that won admiration and respect of people worldwide.
Fail, fail, fail, but keep on coming back stronger. Eventually, that's what's going to help you succeed, regardless of your profession or career.  You can't expect others to make a step forward for you. You have to make an effort on your own. The ability may get you to top, but it takes the character to keep you there. That is why you need to keep developing your character because at the end of the day you will be alone with yourself, and with the feeling that you have deep inside. Being aware that we should improve ourselves whenever we can is crucial in order to achieve our goals, explained Novak Djokovic.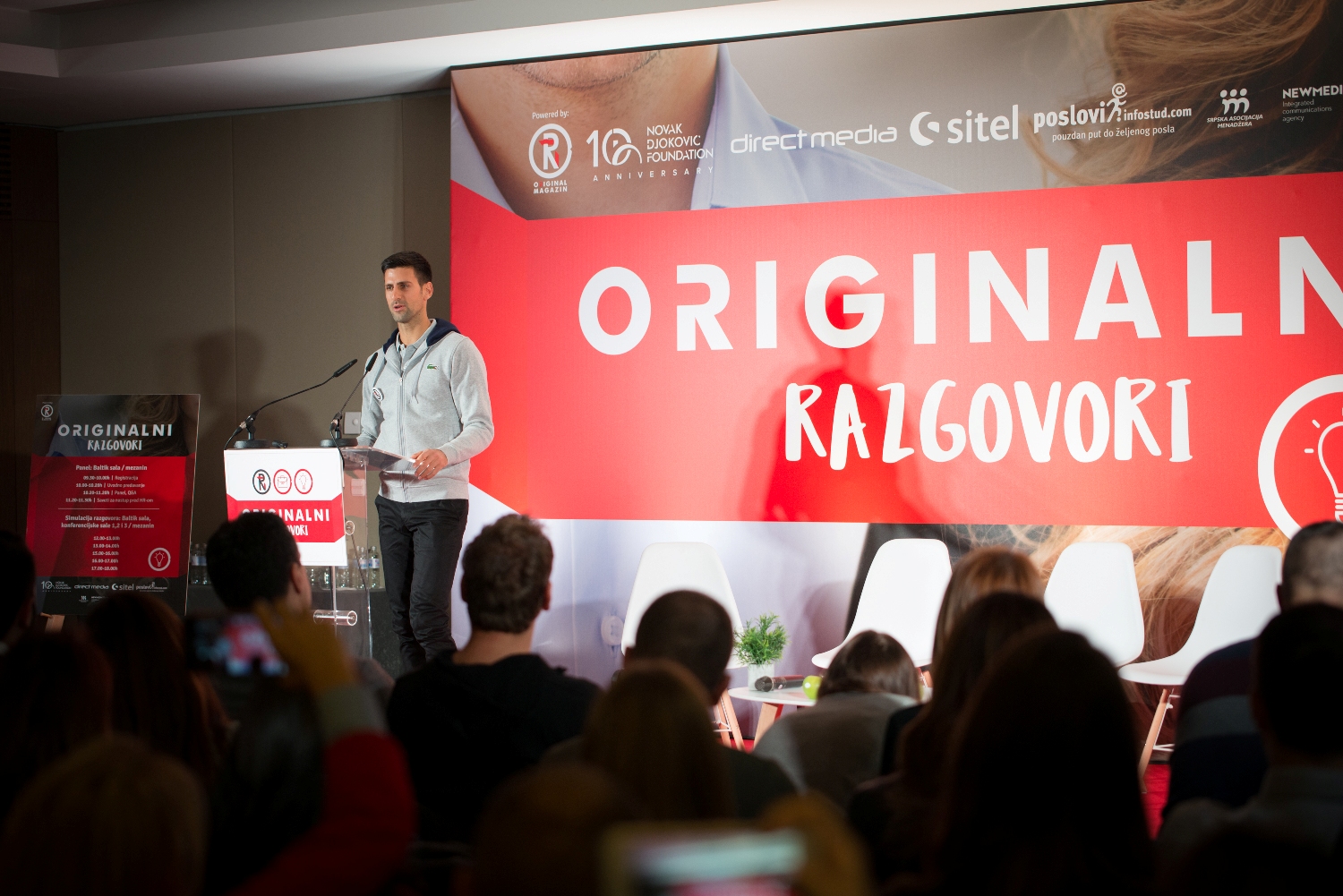 After interesting panel discussions featuring distinguished speakers like Dragan Loncar, professor at the Faculty of Economics, Branko Milutinovic, co-founder and CEO at Nordeus, Jovan Stojanovic, Managing Director at Direct Media Serbia, Zoja Kukic, author and editor at Startit, Robert Coban, CEO at Color Press Group, Dusan Basalo, Senior Partner at Atria Group SEE, Olja Secerov, HR manager at Infostud, and Jovana Andjelic, Talent Acquisition Manager for Eastern Europe at Sitel, job interview simulations started.
Toeing the fine line between stress and excitement can be tough, but staying on the proactive side is crucial to job search success. HR simulation participants knew this, while they waited for their turn to enter the conference hall and talk to more than 20 HR managers from top local and foreign companies: Direct Media, Sitel, Poslovi Infostud, Crowne Plaza Beograd, Adecco Srbija, Atria Group SEE, Delta Holding, Ernst&Young, GI Group, Hemofarm AD, IBWS, KPMG, Manpower Group, NCR, Nelt, Nordeus, Societe Generale Bank, Unicef, and Victoria Group.
One of the first candidates was Jelena Peric. She holds a B.S. in Medical Chemistry and a Master's degree in Pharmacy. She gladly shared her impressions about the simulation.  She went through several job interviews before and decided to attend the Original talks to improve her presentation skills.
I'm more than satisfied with the results of my simulated interview. This event offers unmatched learning experience for all of us directly with the company where I would like to work, she said.
A final year student of spatial planning at the Faculty of Geography Marijana Milivojevic applied to HR simulation because she wanted to understand better the entire hiring process.
I've already had the opportunity to get to know HR managers by participating some recruiting events. They seemed really nice and I have no fear of job interviews in this respect. Morning panel discussions were amazing. I will try to remember and apply everything I learned here, including my formal and informal education, to a job interview environment. Now I feel ready to pursue my dream career.
Ratko Balic graduated with a chemistry degree from the University of Belgrade and completed US master's degree program. Due to successful job interviews, he worked for several companies. Today he is again a job seeker.
My job interviews so far went well. Some HR managers wanted job candidates to show a high level of professionalism, while others cared also about things like physical appearance. During my last interview they told me I look much younger than my age, so they didn't hire me even though I had all necessary qualifications for the applied job position. However, I had positive experiences. I got the job in a company immediately after the first interview, and I started working after two days, said Ratko.
Success doesn't happen overnight. Dragan Loncar, a professor at the Faculty of Economics, tried to explain this to the young people at the HR simulation.
It takes time, hard work, learning from failures and persistence to become successful.  You have to maintain a fine balance between modesty, self-criticism and healthy ambition. Free yourself from vanity, self-centeredness and thinking you are better than others. Success is not measured by the heights one reaches in life, but by the obstacles one overcomes while trying to succeed.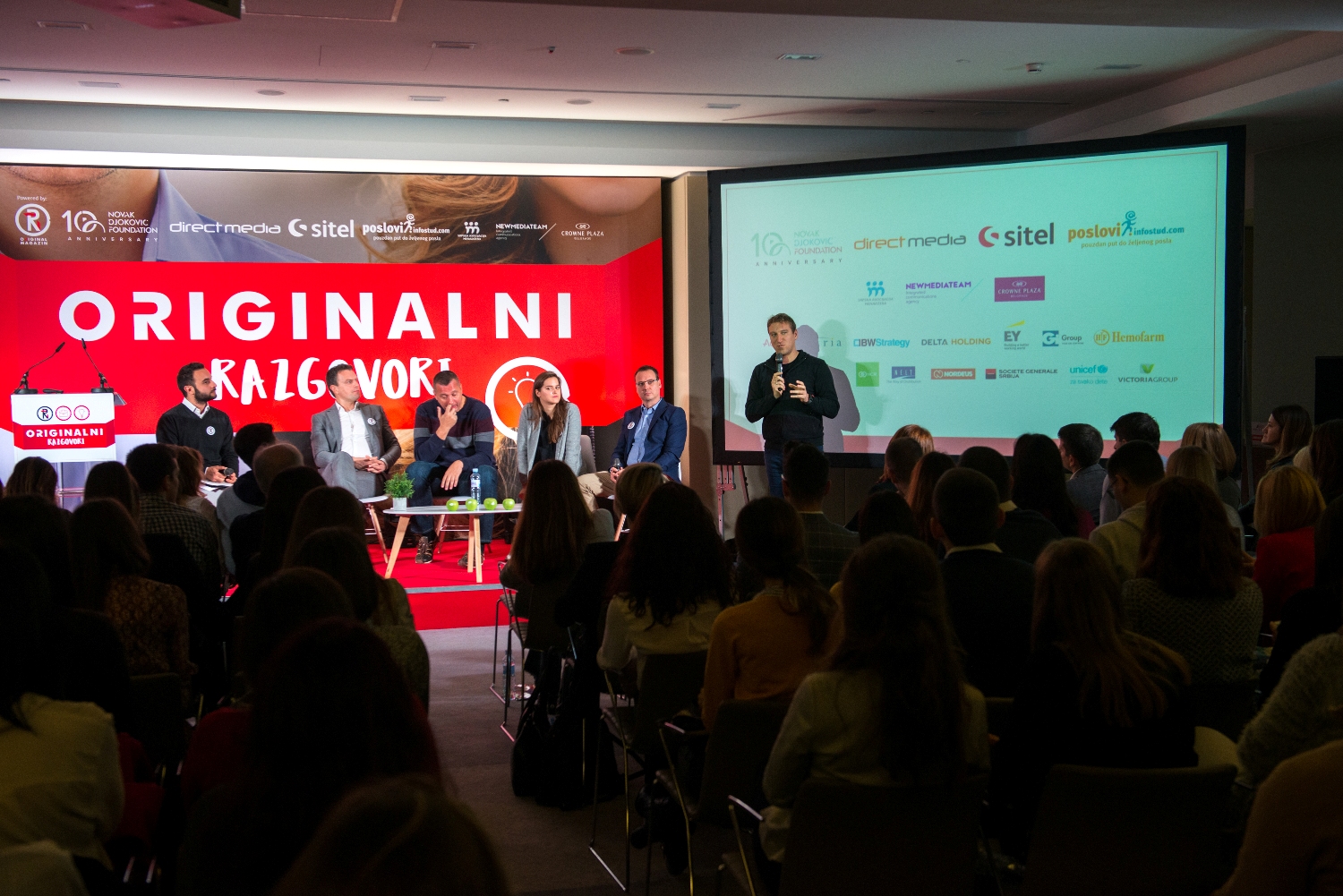 A Student's Point of View – Don't wait for the change to happen. Be the change.
Author: Tara Cvetkovic
What happens to people who many times tried and each time failed to make a difference in their lives? Perhaps at some point they will stop trying due to the lack of support, self-confidence or value system in their country. How to encourage them to believe in themselves again and think like winners when they face the inevitable setbacks and disappointments?
Is success reserved only for special ones, or can it be ours as well? Believing in ourselves sets the foundation for our journey on the road to success. Therefore, what should be done to help young people in Serbia keep believing in their dreams and abilities? And to bring back hope to those who already lost it? We need more good news in the media, for the start. There are so many positive examples out there to inspire, empower and guide us through life, so why don't we hear more about these stories?
Public opinion survey reveals that people are more concentrated on bad news and the media reacts accordingly. The dilemma is do we have to question this research or blame those responsible for the creation of this negative trend.
Who gains from constantly broadcasting and publishing bad things happening in our society, and when will the officials act and end this "bad news" trend?
We should also wonder is it ok to wait for others to change our world for the better, or choose to be the change, support initiatives started to help those in need, and join people willing to find more solutions to our common problems.
Will we just wait for something to happen? Wait to see that situation in the country is changed, wait to welcome completely different circumstances. The easiest thing to do is quit and give up when things are hard. In Serbia people can find million of reasons, legitimate or not, to stay inactive. However, those who decide to say no to excuses and fight against difficulties are the successful ones.
Success isn't reserved only for the rich and powerful but it is attainable for all people who work hard, follow their dreams and see each failure as a building block to their ultimate success, because of the learning it provides. If at first you don't succeed, try and try again.