Montessori Approach for the First 6 Months with Baby at Home
Preparations for the arrival of a baby should be one beautiful period in the life of a mom, and dad as well. Should you decide to give your child the best possible conditions for growth and development from the very beginning, the Montessori pedagogical approach is perfect for you.
As in sports and many other areas of life, preparation constitutes half the work. In order to prepare yourself for the arrival of the little one in the Montessori spirit, several basic guidelines of the classic Montessori repertoire will represent a big help in those first days which are by default already brimming with challenges. It would be best if you were prepared and if the baby's environment would be thought out and prepared in advance. The first days are of great importance, so every detail you created in advance will have a great positive effect on your child's life. The Montessori approach always points out that, in addition to functionality and order, we also need to include the principle of beauty and simplicity in the life of a small child, because they take in everything from their surroundings just by being in it.
Montessori-style environment recognizes four different segments within a baby's environment and these are sleeping space, feeding space, care space and activity space.
Sleeping space
Babies sleep a lot at the beginning, but that period decreases as they grow. The original Montessori approach recommends that babies have a mattress on the floor for sleeping, in order to have sufficient space for movement. If this is too radical for you, you will definitely have to obtain a crib for your little one and decide on a place to put it.
Maria Montessori patented the topponcino, a small movable soft pillow, which envelops the baby while you hold it or while it lies, when you are putting it down to sleep or when you are handing it to someone, making it feel safe, and that is very enjoyable for newborns.
The Montessori method recommends that babies be put to sleep when they become sleepy, to wake up when they are rested and to rise when they want to.
Among other things, this is why it is advisable for babies to sleep on a low mattress-bed so they could have this freedom. The idea of the Montessori approach is to develop independence in sleep as in other aspects, so it is recommended that you teach your baby to sleep alone as soon as possible, this will do it a great favor. This advice is hardest to follow because mom's intuition tells us that babies should be cuddled the most in the world. Healthy sleep is no doubt the foundation of our well-being, not just in this earliest period, but during our entire lives.
Feeding space
First, babies need milk, then they require solid food. Breastfeeding and bottle-feeding requires a calm place. A calm place means a place without noise in which the mother and the baby can focus on the act itself. The Montessori approach recommends not to use this time for any other activity, but to put your entire focus on the baby. This place should also be very comfortable for you too. We know this is not easy because feedings can initially last even up to 40 minutes, and they are very frequent, but they are for the well-being of your baby, and bonding with this small creature will be not only useful to you but empowering.
At 6 months, when the baby slowly starts to sit up, you can introduce a small table and chair into your routine which is also specially designed in the Montessori spirit to suit the little ones. The height of the small table and the chair is adjusted to the earliest age and it can be used until the child turns 3. The chair can be pulled under the table, and this secures the baby so it cannot fall out. By enabling the child to sit at a table which is right for it, making it more equal with an adult, you send the child a message that you value it as a person and that you wish to encourage its independence, which are the values of the Montessori approach.
Care space
Diaper-changing time is ideal for interaction. We address babies incorrect speech, we speak to them as if they can understand us. This establishes foundations for later correct speech development and psychological and social development. Babies are social creatures from birth, and their relationship with their mom has a direct impact on the rest of their life. What the Montessori approach reminds us of is to be well prepared, that is, to prepare in advance everything necessary for bathing, changing and care of the baby. Baby's things should be neatly set out because this paves the way for easier acceptance of order as one of the fundamental values later in life.
Care and sleeping rituals are a part of creating patterns that result in the baby feeling safe in predictability.
The baby should be dressed simply, so it can move uninhibited. It is best for the baby to be dressed in comfortable clothes made out of natural materials. The Montessori method recommends the use of cotton diapers because this enables babies to feel when they are wet, which will facilitate potty training later on. It should not be forgotten that mom's well-being is also important for the baby, so that should be taken into consideration as well when making a choice. Potty training is reserved for year 2 when the sensitivity period is the strongest.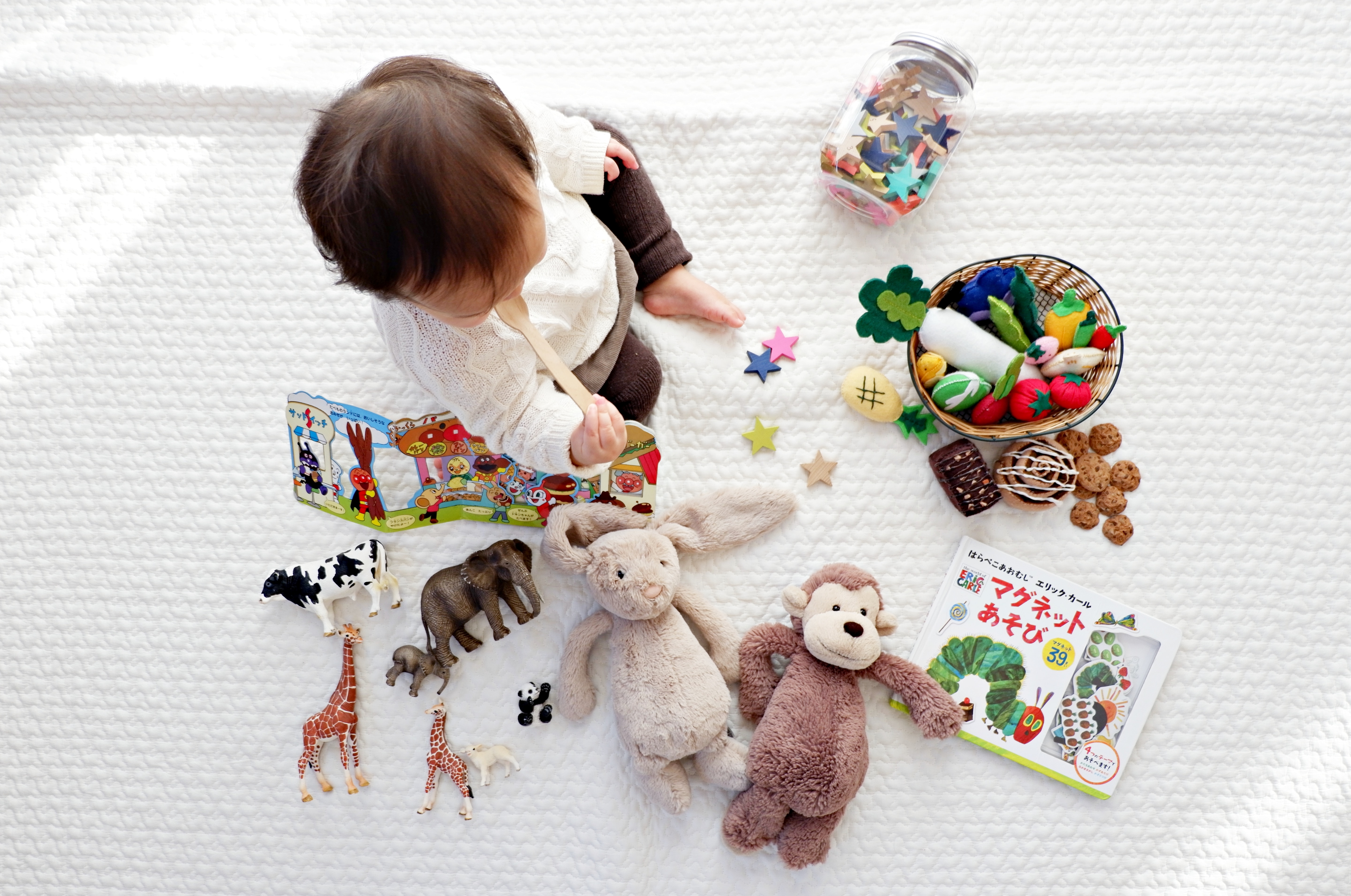 Activity space
This is one of the key things in any baby's life. Our houses and apartments are not at all suitable for children. This is why a conscious effort should be made to equip a part of a room or an apartment/house for baby's activities.
Initially, mom's face is the main toy. Also, mom's voice and mom's singing, regardless of vocal capabilities, is the most important music for the baby's ears at the very beginning. At two months old, babies start to produce first sounds, so this babbling in the earliest stages of life is actually the beginning of expressing and learning to speak.
The Montessori-style environment is not possible without mirrors.
From the earliest age, babies look at their own reflection and get insight into themselves and their environment. It is also important to place the baby on its stomach at that time because this has a positive impact on their later development as well.
As the baby makes progress each day, toys and activities on offer are adjusted to its age – the development of its brain and hands. The Montessori approach stipulates that a baby needs a stimulating environment, however, this does not mean noisy and colorful, but calm, quiet and neutrally-colored at the very beginning. Mobiles, rattles, balls and so on are gradually introduced into the baby's life.
Thinking carefully about what we give the baby means that we understand that its brain is like a sponge, non-selective, so, it takes in everything that surrounds it, and further develops in a natural predetermined manner, regardless of our wishes. For example, at the very beginning, babies need mobiles which enable the baby to focus its view – black and white Munari mobiles, and later colored mobiles such as Gobi mobiles, when the baby is 2 or 3 months old. When it is 3 months old, the baby can reach objects, and mobiles change accordingly. I will write more on Montessori toys in the next article.
The ability to maintain focus and keeping attention is one of the most important legacies of childhood.
Baby's efforts to maintain focus begins in the first weeks of its life. Our job is to notice and protect this sensitive period for focus formation because this sets the foundation for later success in studies and socialization.
For a small child, playing represents learning. By securing an optimal environment for your baby, you create a space where it can receive exactly what it needs for correct development. The only thing you can give is endless love, understanding and meeting the baby's needs, which makes it all even more beautiful and harmonious because you as well will be more rested and be able to offer all of it to the baby in the best way possible. The award for all these efforts will be a child which develops all of its potentials to the fullest, which is happy and satisfied.
---
About the author: Tijana Adamov Ignjatović, founder and director of CSR Concept Incubator ŽutePatalone intended for creation of socially responsible concepts and the founder of the Childhood Study Initiative (Inicijativa za proučavanje detinjstva) the goal of which is to found the first Institute for Childhood Study (Institut za proučavanje detinjstva).