"As I wished to become a better parent for my child, I healed the wounds from my own childhood." In the next series, read personal stories of parents and caregivers participating in our "Support, NOT perfection" program.
As we eagerly anticipate the opening of new Centers for Parents, where workshops will be organized for parents and caregivers all over Serbia, with the help of our partners, Generali Osiguranje Serbia and The Human Safety Net, we will be sharing with you a string of heartfelt stories, the first one being of mom Ljiljana ('Lily' in English) Babic from Pancevo. The stories are in their original form, written with a pure heart and tons of love.
My husband and I have known each other for a long time, more than 23 years. We know each other so well, by touch and look, we are best friends. Everything between us was easy, fun, unforgettable, exciting, lofty, and carefree: education, career, travel, socialization, everything was perfect. We were very diligent and hard-working and we were accomplishing our visions and goals without particular difficulties. After that we got married and wanted to become parents: to multiply our love, to become a family.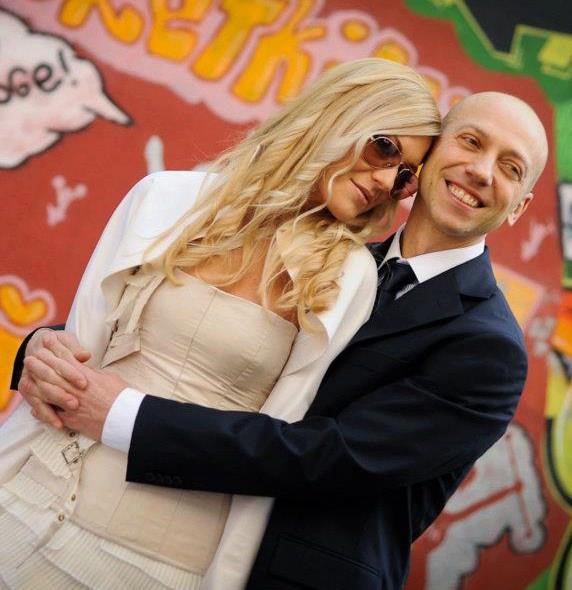 Boom! "You cannot get pregnant naturally, the only option is in vitro fertilization." I was the problem. After that came a heroic fight, with a sense of guilt, unsuccessful attempts, wondering whether it was meant to be that way and whether this battle with hope, hormones, highs and lows even made any sense. However, at the same time, I had a burning desire and a crazy drive to become a mother.
After the fourth attempt, I was pregnant. Celebration, joy, calling everyone, telling everyone. What would we name them? Her or him? What will their room look like? Where will they go to school? I will have a family, it will be my family, only mine, and I will not let anyone else have it! And then – boom! The world which had never existed in reality, only in my mind, came crashing. The fetus was not developing. I was falling, I could barely hold on, I was drowning in tears of unaccomplished expectations. We moved on, I held my head high, returned to the new normal. Let's try again! And again. I was pregnant! This time I was quiet, isolated, hidden from everyone. No expectations, plans. I wait for the heartbeats, I wait for the double test, I wait for the genetic analysis, I wait for the 5th month. We have a healthy boy! I wait for the 6th month – the cerclage was not good, I waited for the seventh month, the placenta was too matured, I wait for the 8th month – I could barely walk, I could not walk at all – I was crawling, everything hurts. I'm protecting it, holding on to it, just a little more, just to grow a little more. And then comes the 9th month. I don't know what will come after pregnancy, we only handle the logistics and what needs to be done. I don't want to build a world that doesn't exist. Not yet.
He was born big, beautiful, loud, a 10/10 boy! And then a new world was created, that I consciously didn't want to know, a world that had an entirely new dimension. Where was I in that world? Was that me? Where is the milk, where is my body, whose breasts are my these, who is my husband? Who was born: the mother or the child? The dad was reborn. It is not the man I knew before! I don't know anything, I don't understand, I'm not doing well, I didn't prepare enough and it frightens me. Now I will be responsible for this creature until the end of my life. I am panicking, aaaaa! And so it was day after day, month after month, first year, second year, now almost third. Some parts of me have returned, some have shrunk, but I am not the same person and I will never be again. And where were the two of us, who loved each other endlessly all these years, and then encouraged each other and fought together, what is our shared role and how to reach ourselves again? Where to find answers to all these questions?
As nothing in life happens by accident, at that time I thought and felt the need for advice and support with parenting, and I saw the invitation for the "Support, NOT Perfection" workshop of the Novak Djokovic Foundation. We learned about this parenting program, and we thought that this was a great initiative and that it suited our needs. Our main goal was to check if we, as parents, were on a good path, and how to find our own shared path.
During the workshop, I noticed that my son was one lucky child, that we were already using the majority of the methods, and I was proud. The exchange of experiences with other parents was precious because it allowed me to see that some things that worried us a lot were completely normal, and a part of everyday life of all parents. What was particularly helpful to me were the discussions that led me to understand how my husband and I could have more time for ourselves, without feeling guilty. As well as to understand that I have a tendency to overdo things that I did not have as a child because I come from a dysfunctional family. I grew up with my mother as my father did not want me to be born. My mother divorced my stepfather, who was like a father to me and whom I adored. And my father later divorced my stepmother. Divorce was a common topic in my family, and my wish was for no one to get divorced, to never get divorced myself, and I chose my partner carefully.
Every workshop was like therapy to me, I experienced the examples very emotionally and personally, I found it hard to swallow, I would hold back tears, but yet I had the need to share my experiences with the group, to be a living example of how some things should not be done, and how they should be understood better. I found myself in the role of a child again, I would squat and get down to see the world my child, my son sees, the one that all our children see, but that I could now see as well. Because that child was always me, with the need to be someone's child, with both parents, where they would see me, pay attention to me, love me, and respect that I came from them. How hard is it actually when you are a child, a small yet big person in a tiny body, with a clearly developed conscience and a great need to be accepted and understood, but still incapable of expressing yourself "in the right way" as the society expects it?
Suddenly I realized that, in the workshops, I had the role of a child, not a parent. I resolved some of my internal conflicts and secured the foundations to raise my child in a healthy way, with no doubts whether I'm doing the right thing. Images and experiences from my childhood had an impact on creating the person I am today. Childhood is the key starting point for creating an individual, with all their personality traits. Our children are already formed people, in terms of emotions, sense of justice, love, and attention. It is up to us to direct them in the right way. The two of us, as the base, are the starting point of the existence of our family. We are the foundation, the basis and we have to protect sanctuary, everything depends on us.
Thanks to facilitator Aleksandra and the team for the wonderful instructions and advice on how to raise healthy, happy, and successful people! The advice that I liked the most was to hug and kiss our children as much as possible while we can, while they are little. Good luck, dear parents and caretakers! There is no more important role in life than raising a child because children are the ones who make us real people.
With the desire to support all individuals who influence the early development of the child, the Novak Djokovic Foundation has been implementing the "Support, NOT perfection" program since 2017, which brings together parents and caregivers who understand each other well because they have similar daily challenges. Within 10 workshops led by trained facilitators, participants address topics related to raising children under the age of 6, exchange experiences, enrich their knowledge of parenting and develop a mutual support network. In cooperation with our partners, Generali Osiguranje Serbia and The Human Safety Net, the Foundation will expand the impact of the "Support, not Perfection" program to another 2,200 parents and almost 4,400 children throughout Serbia in the next three years by opening Centers for Parents in 15 different cities.