The wife of the tennis great Novak Djokovic, exclusively for the Italian Alley Oop,  talks about her philanthropic work in early childhood education at the Novak Djokovic Foundation.

Although she is passionate about her many business ventures, she insists that the greatest love of her life is family: her baby boy Stefan, husband Novak Djokovic, and her philanthropic work through the Novak Djokovic Foundation.
Jelena Ristic is no stranger to the tennis fans worldwide. The wife of the world  tennis No.1 met her soulmate during her time in Sports high school in Belgrade.  As both her and Novak are respectful of the professional ambitions of each other, Jelena was able to excel in a career on her own. She moved to Milan in 2005 to pursue a degree in Business Administration from Bocconi University and then went on to study in Monte Carlo where she earned a Master's Degree in Luxury Management.  The couple married on the coastline of Montenegro in July 2014 and later that year they welcomed their first baby boy  Stefan.
I have many fond memories of my years in Italy. I learned to be independent, courageous, and bold but also to live away from home. I lived in a dormitory, with many students from all over the world. It was a very competitive and high paced environment in which each one of us pushed each other to be progressive and to constantly improve. It was a great experience. I know that at that age, there is a fear of facing a new world, but I knew the importance of enjoying myself by living in the moment. Sometimes we forget that the momenta are all we really have. No one truly knows what will happen next, we only know what is happening now, said Jelena Djokovic exclusively for Alley Oop.  
1) How did the idea of the Novak Djokovic Foundation come about?
Novak always wanted to help others as much as he could because he strongly believes in the power of giving back. He had that luck (or the misfortune) to experience opposite walks of life. Therefore, he never takes anything for granted. In 2007, with the help of his parents, he founded the Novak Fund to help underserved communities in Serbia through various initiatives. Although his early work was reaching many people, it wasn't making a lasting impact. So in 2012, we made decision together to focus solely on children 3-6 and invest in early childhood education and the Novak Djokovic Foundation, as we all know it, was born. We chose to address an issue that not many NGOs focus on because it takes many years to see the tangible results. Nevertheless, our upbringing keeps steadfast on our mission as we strongly believe that with the right care, support, and education, any child can become a winner regardless of the chosen discipline. And that is why, even when instant gratification is not an option, we always insist on investing in Early Childhood Education (ECE).
2) How does the foundation work?
The Novak Djokovic Foundation is a global organization, with offices in Serbia, the United Kingdom and the United States. Our focus in on early childhood education (ECE) and early childhood development (ECD).
Our engagement with the wider world can be divided into two parts:
On one hand, we have a global advocacy function whereby the Foundation aims to motivate and encourage policymakers across international borders to provide appropriate financial support for ECE/ECD – we do this via multiple channels, including Novak's role as a UNICEF Goodwill Ambassador
On the other hand, we have projects on the ground. Our frontline projects are mainly in Serbia, but we have also supported work in Bosnia, Croatia, Australia and the United States. The two key components of our project are concerned with the establishment of new preschools and providing teacher training.
3) What is your role within the foundation?
I am the Global Ambassador of the Foundation, and I also sit on the Board of Directors. I work very closely with the management team of the Foundation.  I like to think that I strike a healthy balance between many family and professional activities.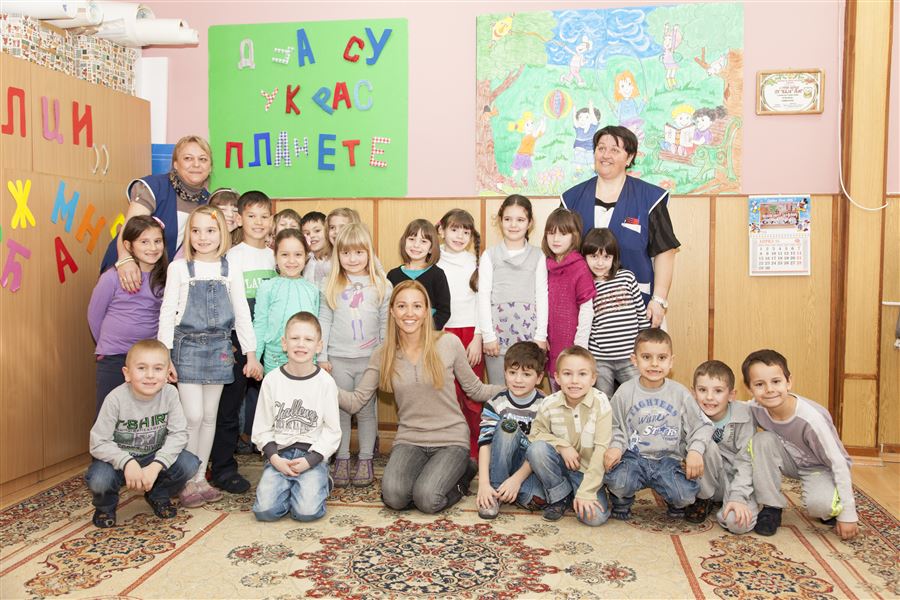 4) "Believe in Their Dreams": what is the primary dream of children that you would like to make come true?
Every child's dream is a dream worthy of coming true. One child's dream might be to become the best tennis player in the world. For Novak, that dream was fulfilled only because he had a proper upbringing, the right care, love and support from very early on. Not all children are that lucky. By investing in early childhood education and development programs, our goal is to level the playing field. With the right investments all children will have what is necessary to dream big and to win big.
5) Which of the projects already carried out by the Foundation are you most proud of?
I am proud of all our projects because they all try to tackle the root of the problem. For example, through our project Schools of Life, we are establishing pre-schools in underserved areas of Serbia. By establishing pre-schools, we are also employing and training teachers and giving children from poor areas access to high quality care and early childhood education programs. In our project, Family Outreach Worker, we are trying to change the system at place by piloting a program that strives to stop placement of children under 3 years into orphanages. This program will soon become a part of the Republic of Serbia's social services. Another program we are implementing in Serbia is teaching children how to deal with emotions. This program is still in its pilot phase, but if successful in showing the benefits for child's overall health, it will become part of the educational system of Serbia.
6) And what future project do you care about the most?
I'm very focused on helping young Serbs reach their full potential. I know how the media can influence their mood and their attitude towards life and its opportunities. There are not many stories that can inspire and motivate them. They read about the economic crisis, wars, scandals, stars of reality TV, and many other material ways of describing the success. To combat this trend, last September we launched a magazine, "The Original", in which we tell stories of great inspirational leaders from around the world – including Serbia. We had Anna Wintour, Richard Branson, Kevin Systrom, Boris Becker, John Galliano, Arianna Huffington, Karli Kloss and many others who spoke of the true value of success. So we try to help the young people to take control of their lives and find their formula of success by following the right values. It is a wonderful trip and we already had a lot of positive feedback. It is a kind of like an alarm clock. We must invest now to make the most effective leaders of the future.
7) How much money has been allocated by the Foundation to carry out its projects so far? And in the future?
The Foundation has spent circa 1.8 million euros for the projects in Serbia in period 2012-2015 (2015 still pending audit). As we understand the importance of allocating funds that will support the work of the Foundation long after Novak retires from the tennis, we have started building an endowment to support our steady growth for the years to come. Our goal is to grow and reach as many children, not just in Serbia, but worldwide, and help them reach their full potential.
8) Is it possible to become a partner of the Foundation? And if yes, how?
The Foundation is always very keen to hear from individuals and organizations who wish to explore collaboration in some form. We have worked closely with Banca Intesa, PwC, the World Bank, UNICEF, to name a few.  We look at partnerships as something that deserve special attention. Consequently, we believe that every collaboration with others is unique and reflects the value that both parties bring to the table. For example, I am proud to say that we will have a Gala dinner in Milan on September 20th. This will be an opportunity for groups to support our mission and get to know our work more closely.
9) What's Novak's commitment in the Foundation?
Novak is the Founder of the Foundation, and sits on the Board of Directors. His passion to help children get the support, care, and education they need to thrive, always leaves me in awe. With the amount of obligations he has on and off the tennis court, I am always amazed at how much time he still manages to dedicate to the Foundation. For example, he is always trying to use his image in the right way and be the advocate for ECE around the world. To raise awareness of various ECE programs, he tries to regularly make public appearances at preschools around the world – most recently in Melbourne right after he won the Australian Open for the 6th time, and in Miami in the middle of his participation in that tournament.
Source: Alley Oop