Daniel Sargent sits down with Eli Wolff, the director of the Sport and Development Project at Brown University, to discuss issues facing athletes with disabilities and the future of adaptive sports.
Eli Wolff is combining research, policy, and practice to advance sports, inclusion and human rights around the world. He is not only an accomplished athlete himself, as a member of the US Paralympic Soccer Team in 1996 and 2004, but has also spent most of his adult life working to increase awareness and access for athletes with disabilities.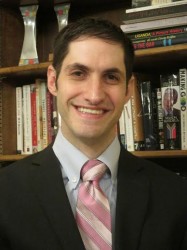 Wolff's passion for the topic has allowed him to advocate for these topics on important stages such as the UN Convention on the Rights of Persons with Disabilities, the Supreme Court and the Department of Education. Wolff is now the director of the Inclusive Sports Initiative at the Institute for Human Centered Design as well as the director of the Sport and Development Project at Brown University. Eli is a graduate of Brown University and is currently pursuing his PhD through the German Sport University of Cologne.
You helped organize and promote the International Day of Sport for Development and Peace on April 6. Were you pleased with Novak Djokovic's involvement in the event?
It was great to see Novak Djokovic take a leadership role and show the power of sport. It seemed like he went beyond the surface level commitment and had a more deeply engaged and meaningful contribution. I think it is important for athletes to inspire others to be involved in the sport and development sector.
You helped incorporate sport into the United Nations Convention on the Rights of Persons with Disabilities. How has the issue of disability come up on a policy level?
The themes for the International Day of Sport for Development and Peace came out of the UN Office on Sport for Development and Peace, and one of the five pillars was disability. It has been the overall strategy to incorporate disability issues into the broader sports arena. When you look at the growing sport and development realm you are now seeing disability as part of that system. To have it represented in that way was crucial moving forward. It is important to focus on inclusion for all athletes with and without a disability. Adaptive sports are not separate but part of the same events and system. That comes out at a global level with the elements of the Convention. It has set a paradigm shift from an empowerment standpoint and not out of pity.
What did you think of the media coverage of the 2014 Paralympic Winter Games in Sochi?
The London Games were a big step forward and Sochi continued the progress. The US media provided over 50 hours of coverage through NBC, which was a step in the right direction. It helps with awareness and exposure. If you do not see the athletes in person or on TV, you may hold assumptions or continue to perpetuate stereotypes. Having athletes and former Paralympians involved with the coverage also helped the broadcasts reach a wider audience. For example, sled hockey and skiing are always interesting to watch from a team perspective. NBC actually switched their national broadcast to air the sled hockey final live. But I do think there is room for further and more sophisticated coverage. It would be great for major broadcasters to have more personnel on the ground at the Games and bring even more of the athletes' stories to viewers.
What initiatives have you been involved in recently to foster awareness about athletes with disabilities?
One project that has been building momentum in recent months is the inclusion of all abilities in the Sport for All movement. Sport for All is a movement that the IOC has promoted for many years but has not officially included all abilities. Sport for All has the opportunity to embrace the Paralympics, Special Olympics, Deaflympics and adaptive sports at the elite and grassroots levels. The Sport for All movement should be staying current and keeping with the developments that are happening. Local community programs often say they are open for all but they must reach out specifically to children with disabilities. The key is to communicate an inclusiveness to families so young athletes feel like they are welcome in a variety of contexts.
How do you envision the future of adaptive sports?
It would be great to see the growth of events like wheelchair basketball or sitting volleyball where athletes with or without disabilities can play together. There could be opportunities for all athletes to be a part of intramural, club or varsity teams. Advances in technology are also exciting for the future of adaptive sport. There are definitely issues of cost but as more people use the equipment, it will be easier for athletes with and without disabilities to participate in these activities. In the same way that kids carry around a lacrosse or hockey stick, they would have their wheelchair. The key is to create an environment wherever everyone is together without power dynamics based on abilities or disabilities. The focus should be on blurring the lines between ability and disability.