SEVERE floods have struck the people in Serbia these days, leaving thousands of children homeless, without food, water, warm and dry clothes.
Roads and bridges are flooded, schools and kindergartens have been shut down, 100,000 homes in Serbia left without power, while rain-swollen rivers and surging water course through towns and villages, overflowing across streets into homes, causing landslides and other disasters.
The situation is so dramatic, that the entire families have lost their homes in the floods. Finding a shelter is a real adventure for many. In the city of Svilajnac more than 1.000 flood victims had to seek refuge on the roof tops, waiting for the rescuers to come and save them. In Veliko Polje near Obrenovac the dam broke, and the river flooded the whole area… Hundreds of cars and buses are stranded along the flooded roads.  The situation is the most dramatic in western Serbia, where more than 500 people were evacuated during the night.
These are the heaviest rains and floods ever recoded in 120 years. Entire towns are cut off and the slow-moving cyclone is said to last until the weekend. Serbia has already declared a nationwide flood emergency on Thursday. Several people have already drowned and the numbers are only growing.
Meteorologists say that more than double of Serbia's average rainfall for the whole of May is expected to fall within just two and half days. Major traffic routes, such as the E-75 Belgrade-Skopje highway, are submerged. Serbia's rail link to Montenegro is also severed.
Republika Srpska and Bosnia and Herzegovina:
In Republika Srpska, they are still struggling with surging waters. Overflowing rivers have burst into towns and villages, cutting off whole communities, while landslides have buried houses.
The most critical area is near river Sava, so called Posavina. Conditions in Šamac are dire, the Brčko district mound is threatened by deluged water. It is said that the level of River Sava is over nine meters high and almost 1.35m higher than it was in 2010.
Yesterday because the dam near Batkovci fell, started the evacuation of 10.000 people. Army helicopters have been sent to evacuate stranded residents but bad weather is hampering the rescue efforts.
In Bosnia and Herzegovina the Sava broke the dam in the area Orasje and more than 1,000 people needed to be evacuated. The situation is  difficult in the area of Odzak and Bijeljina.
Water wave from Croatia is expected to arrive in Sabac and Sremska Mitrovica (Serbia). Still the situation is worst in Obrenovac and Baric (Serbia) which are completely submerged.
Croatian helicopters  are aiding in the  rescue operation, providing assistance to the flooded areas in BiH, especially the areas of Odzak, Orasje, Bijeljina, Bosanski Samac, and the wider area of Zenica. The exact number of deaths in the country is not known.
Floods that have affected Bosnia and Herzegovina have also caused massive landslides across the country. There are approximately 2000 active landslides forcing a large number of families to be evacuated.
Croatia:
The situation in eastern Croatia is also alarming. The Sava River broke dikes in Croatia, at Rajevo Selo and Račinovci, in the southeast of Vukovar -Srem County, and the evacuation of all residents of the two settlements has begun.
At Bosniaks in Županje swollen Sava has first spilled over the embankments. Sirens announced the general danger, and the evacuation of the general populace is underway. Out of fear that embankments in Josip Rimac will too give in, all the citizens were evacuated last night. The Municipality Drenovci is in critical condition because of a possible flooding of Sava River. The village in ŽUPANJSKA Posavina, Gunja, was evacuated because of the threats.  
Therefore, we have to turn to all of you for help! There is no time left. We have to act promptly. Let's unite and confront this together!
We call on all people of good will who are able to help in any way to make donations in the form of food, clothing, and footwear.
Ways You Can Help In Serbia
"‹MONEY DONATIONS:"‹
Government of Serbia
BANK ACCOUNTS FOR HELP (dinar and foreign currency accounts of the Government of Serbia to help those in need):
RSD account: 840-3546721-89. Purpose of payment: Removal of extraordinary circumstances – flooding.
Foreign currency Account: 01-504619-100193230-000000-0000, special purpose account for funds for elimination of consequences of floodsFor donations from abroad: Money transfer instructions can be found here.
The Government of Serbia has succeeded in opening PAYPAL account. See the photo below.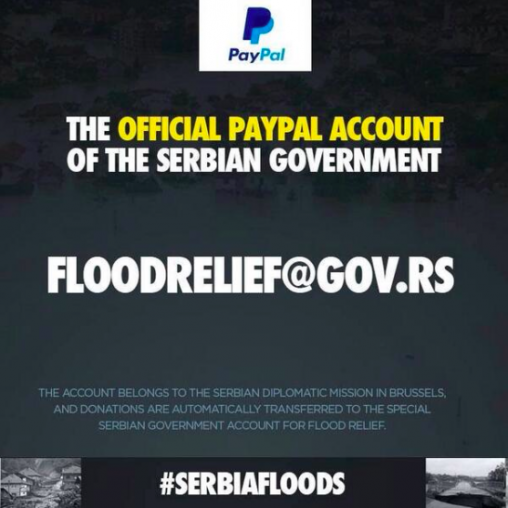 TO DONATE MONEY TO THE GOVERNMENT OF SERBIA VIA PAYPAL, follow this

link

.
SMS number for help (for all networks, price 100 RSD):1003
Current account for help (City of Belgrade):
Special purpose account: 01-504103-100000300-000000-0000 – Grad Beograd – Sekretarijat za finansije.  IBAN: RS35908504103000030058.  Payment Instructions are on the website of the City of Belgrade, at

www.beograd.rs

.
RED CROSS SERBIA – PaymentS from abroad: All instructions can be found at this link.
Red Cross Serbia will announce in the media where they have directed their money.
NDF
Should you wish, you can also choose to donate to NDF via our paypall account. All the money we have received starting from yesterday, will be used for reconstruction of kindergartens and schools ruined in the floods.
After Monday, we will have a clearer picture where the help is most needed and we will announce it via our channels. Please follow us for more updates.
"‹CALL CENTERS"‹
The Ministry of the Interior Affairs has also established a call center through which all interested people willing to help, are able to obtain information in order to realise their contributions. The call center will be open 24 hours a week and will coordinate all actions with other governmental agencies.
The telephone numbers of the call center: + 381 11 312 0741 ,+ 381 11 312 0739, + 381 11 312 9939,+ 381 11 312 0742, + 381 11 312 0646, + 381 11 3148 474, + 381 11 3148 547, + 381 11 3613 321, + 381 11 3148 509, + 381 11 3148 517.
You can also get information emailing to: pomoc.vanrednasituacija@mup.gov.rs.
HUMANITARIAN ACTIONS"‹
BELGRADE: Help with clothes, shoes, money is collected at the point in the "ATEX " Milorad Jovanovic 7
BELGRADE: Help in food and water is collected in "INTERKOMERC ", Bulevar Brigade 31
BELGRADE: Help is collected at the Old DIF ( Deligradska 27). Working all night and has accommodation.
BELGRADE: Help is collected by the students of PMF (Natural Mathematical Faculty)
BELGRADE: NOTICE – Fair Hall 11 has enough supplies for the next two – three days. Aid should be diverted to other points.
NIS: Red Cross– Obrenoviceva 39 – Saturday from 8 to 14h. Student Cultural Center – Garden of the University of Nis , entrance from the street Šumatovačka – Saturday from 12 -18h . (Thanks to the cast of " Southern News" , visit their website for more information on checkpoints in southern Serbia).
Vranje: Red Cross– Square Bratsva and Unity 22 – 24 hours on duty – additional information by phone: 017 74-16-633
Kragujevac: Red Cross, Svetozar Markovic 7 , on duty from 9 -19h .
Dimitrovgrad Municipality and the Red Cross is collecting donations in the sports hall, on duty from 7 -19h every day .
PARAč†IN: Municipal Building Paracin , Tom Živanovič‡a bb – call center in Paracin 063367100
The list of points and www.poplave.rs  (NOTE : Not all locations tested )
Drop in Center Belgrade: Help Shelter in Krfska street has collected enough clothes, blankets and etc. The aid should be diverted to other parties: Information and assistance in Krfska 7 or by phone at +381 11/641-4928 .
Clothing and hygiene needed in shelters for adults in Belgrade Kumodraska 226A , 011 2463-987,
also needed help and shelters – the receiving station in Belgrade, Bulevar Liberation 219, +381 11 / 309-6741 (available 24 hours).
B92 has prepared excel file for all the things needed for the food victims. So far the drinking water is at highest demand. See the list  HERE.
Information on individual initiatives can be found on Twitter using the hashtag #Serbiafloods and #poplave. We urge that these hashtags be used only for the purpose of help and information.
Ways You Can Help In Republika Srpska
MONEY DONATIONS:
Government of Republika Srpska  has opened following accounts to accept donations for the victims of floods in Republika Srpska:
For domestic donations:
Ministry of Finance
NLB Development Bank JSC Banja Luka
Purpose: special purpose accounts for flood relief; account: 562-099-80946823-10 .
For International Donations:
Foreign currency payments can be made to the foreign currency account of the Budget of the Republika Srpska opened with Unicredit Bank AD Banja Luka, according to the following instructions:
Ministry of Finance: a unified foreign currency account of Treasury
Address: Trg Republike Srpske 1 BA-78000 Banja Luka
SWIFT: BLBABA22
Account: BA39 5517 9048 0118 3851
Purpose: Help for flooded areas
LIST OF CORRESPONDING BANKS:
AUSTRIA: AUD, CAD, CHF, DKK, NOKSEK, GBP, USD, EUR – Unicredit Bank Austria AG, Vienna, SWIFT/BIC: BKAUATWW;
USA: USD "" JP Morgan Chase Bank, N.A. New York, SWIFT/BIC: CHASUS33;
GERMANY: EUR "" Commercybank AG, Frankfurt Am Main, SWIFT/BIC: COBADEFF;
BELGIUM: EUR "" ING Belgium NV/SA (Formerly bank BR), SWIFT/BIC: BBRUBEBB;
GERMANY: EUR, AUD, CAD, CHF, GBP "" Unicredit Bank AG (Hypovereinsbank), SWIFT/BIC: HYVEDEMM;
ITALY: EUR "" Unicredit S.P.A. Milano, SWIFT/BIC: UNCRITMM;
GERMANY: EUR "" Deutsche Bank AG, Frankfurt AM Main, SWIFT/BIC: DEUTDEFF;
CROATIA: EUR, HRK "" Zagrebačka banka DD Zagreb SWIFT/BIC: ZABAHR2X;
SLOVENIA: EUR, Banka Celje DD, Celje, SWIFT/BIC: SBECESI2X;
SERBIA: EUR, RSD, Unicredit Bank Srbija AD, Beograd, SWIFT/BIC: BACXRSBG;
AUSTRIA: EUR, BAWAG P.S.K. (Formerly BankFuer Arb.), SWIFT/BIC: BAWAATWW;
SERBIA: EUR, Komercijalna banka AD, Beograd, SWIFT/BIC: KOBBRSBG; AUSTRIJA: EUR, Hypo Alpe Adria Bank, Klagenfurt, SWIFT/BIC: HAABAT22; DANSKA: DKK, Danske Bank A/S, Copenhagen, SWIFT/BIC: DABADKKK;
SWITZLERLAND: CHF, UBS AG Zurich, SWIFT/BIC: UBSWCHZH80A;
SWEDEN: SEK, Skandinavska Enskilda Banken, Stockholm, SWIFT/BIC: ESSESESS; NORVEŠKA: NOK, DNB NOR Bank ASA, Oslo, SWIFT/BIC: DNBANOKK;
Important note for all corresponding banks: please send tag MT103 directly to UniCredit Bank ad (BLBABA22);
Ways you can help in Bosnia
MONEY DONATIONS:
Government of Bosnia and Herzegovina has opened following accounts to accept donations for the victims of floods in Bosnia:
For donations from BiH:
User: VLADA FBIH – FEDERALNO MINISTARSTVO FINANSIJA-FINANCIJA
Account number: 1020500000112809
UNION BANKA DD SARAJEVO
For donations from abroad:
User: VLADA FBIH -FEDERALNO MINISTARSTVO FINANSIJA-FINANCIJA
IBAN CODE: BA391020500000106795
UNION BANKA DD SARAJEVO
SWIFTCODE:UBKSBA22
(information on corresponding banks is on the page www.unionbank.ba)
Ministry of Finance of Bosnia – special purpose account for the victims of the floods
Instruction for international payments
Beneficiary Bank: Unicredit bank AD Banja Luka  
Bank address: Marije Bursač‡ 7, BA-78000 Banja Luka, Bosnia and Herzegovina
SWIFT: BLBABA22
Beneficiary Name: Ministarstvo finansija: Jedinstveni devizni račun trezora
Beneficiary Address: Trg Republike Srpske 1 BA-78000 Banja Luka, Bosnia and Herzegovina
Beneficiary Account Nr: BA39 5517 9048 0118 3851
Purpose of payment: Financial aid for floods affected population and areas
You can find more info on happenings in Bosnia and ways you can help here:
http://balkans.aljazeera.net/vijesti/uzivo-iz-bih-12-miliona-ljudi-u-centru-nepogode
Ways you can help in Croatia
MONEY DONATIONS:
Donations can be addressed to :
Payments on account number IBAN : HR 6923400091511555516 reference number 08 ( eg Internet payment and payment slip )
Calling on the donor phone number 060 90 11 ( £ 6.25 , VAT included)
– On- line donations on the website of the Croatian Red Cross. SEE  LINK  FOR MORE DETAILS:
* For payments from abroad use SWIFT: PBZGHR2X
IF YOU HAVE MORE INFO ON HOW TO HELP, PLEASE SHARE THEM BELOW IN THE COMMENTS SECTION!
For more  information and photos from all critical and flood-affected areas on Twitter, follow the hashtag  

#poplave

, as well as the hashtag  

#SerbiaFloods

 for information in English."‹
All photos were taken from  twitter.  Foto 1,  Foto  2,  Foto 3,  Foto 4,  Foto 5
Disclaimer
Bear in mind that NDF, being a charity organisation investing in children's education and early development, operates ONLY IN SERBIA. However, we are also spreading information and raising awareness about the situation in Bosnia and Herzegovina and Republika Srpska in hope that we can at least help our neighbouring countries by informing those who would like to help as to how exactly they can do so.