Last week on Monday, as members of NDF team, we caught our flight to Milan, where the Foundation's fourth charity gala dinner would take place. We were excited, hearts filled with a lot of enthusiasm and positive energy.
Ahead of Milan Fashion Week, the event gathered A-list celebrities, fashion elite and other influential people in the world of sports and business to show their philanthropic side and join the world's number one tennis player in championing the cause. We have been planning and preparing Milan gala for a very long time. In addition, we discussed different ideas to find the best way to present our work, projects and values we believe to potential donors.
After a short and comfortable flight, we arrived at Malpensa Airport and set off on our Milan adventure. We checked into the hotel and though we spent a very busy morning travelling to our destination, instead of taking a rest we went exploring the hectic city centre and enjoyed "only in Italy" gelato and pizza on the way.
The pace was hard to keep up with but we weren't discouraged. In the evening we attended scheduled team meeting with Jelena related to the organisation of the star-studded, central event, followed by a series of celebrity tennis matches over the next two days. The goal was to raise money for the foundation's endowment and implement ECD and ECE programs and projects intended for children in Serbia. Thinking of children's happiness and smiles at previous School of Life opening ceremonies made us forget how tired we were at moments.
The meeting was held at the location of tomorrow's charity dinner. Magical Sforza Castle opened up our imagination and reminded us of the fairy tales we love. In its stunning setting it was easy to become Cinderella for a day, leave a glass slipper on the stars in a hurry and return home before midnight, without saying a proper goodbye to prince charming.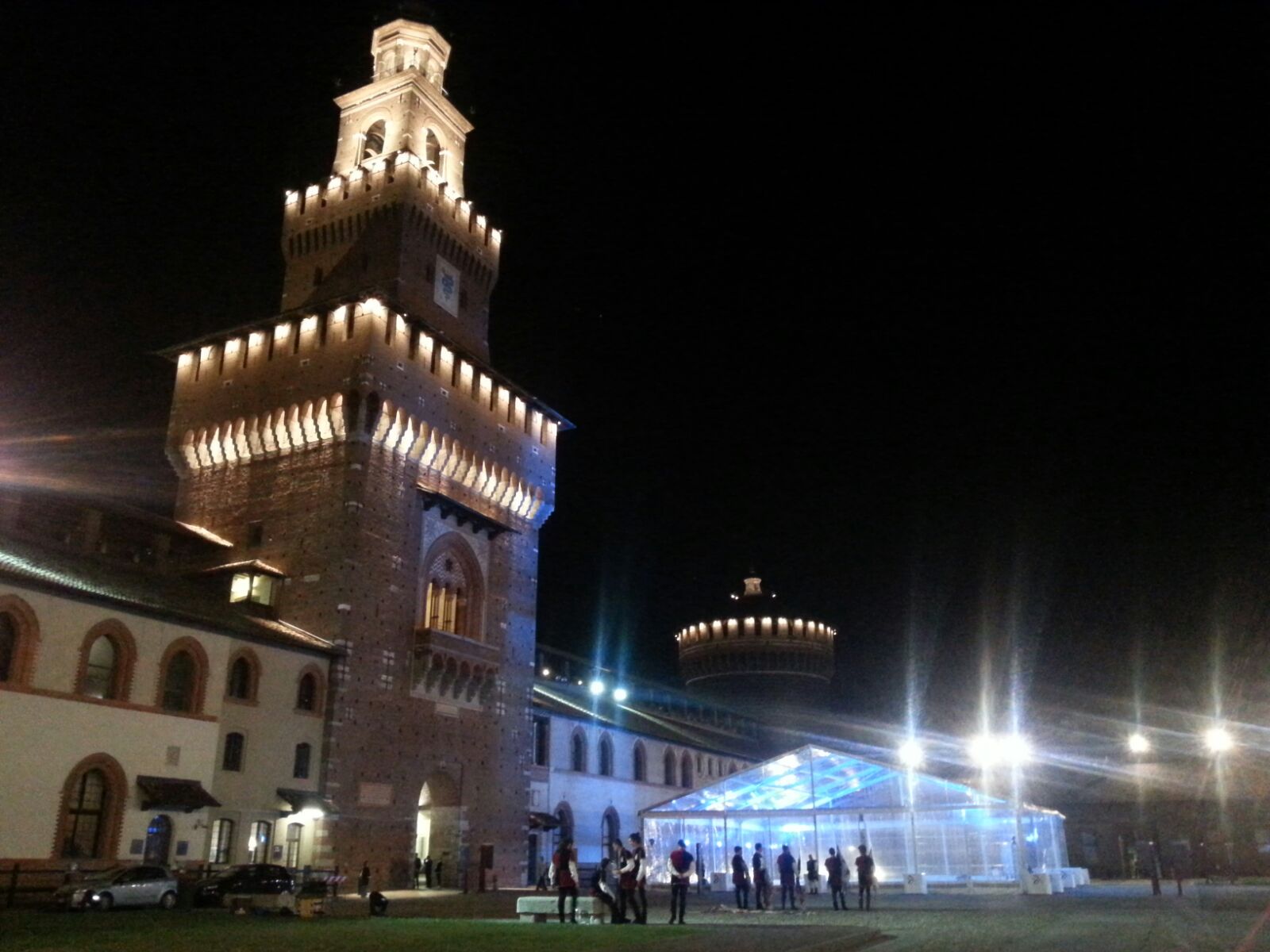 Final preparations were already underway. There were hints of glamour and elegance on the spot. No doubt our dear guests would enjoy. Jelena was long present to make sure everything was perfect for tomorrow night's big event we were all eagerly waiting for. She greeted us with a warm smile, sincerely delighted to see all members of NDF team at one place. She has been working hard over the past few days on the event. She informed us there would be no pre-prepared speeches, as Novak as well as she wanted to sound friendly and warm, and speak from the heart. The audience got the very same impression when they appeared on stage a day later. Nothing could match their passion when they talked about the importance of creating equal opportunities for all children to dream big and fulfill their dreams. The messages they shared were quite inspiring. We were ever so proud to be part of a big NDF family.
D-Day at last. We decided to seize it and do as much sightseeing as possible. We visited the Duomo – one of the biggest Gothic cathedrals in Italy and Europe, dedicated to Santa Maria Nascente, and one of the most enduring symbols of Milan. We strolled through the parks and cobblestone streets. Signs "Rent a bike" were everywhere and soon we realized that it was definitely a better option than driving a car due to high traffic density. It also made sense why there were so many scooters buzzing around. Italians go to work by car on rare occasions, unless they really have to.
We returned to the hotel and started to prepare for the gala. You can imagine how much time is needed for the four girls to get ready. We helped each other with hairstyles and makeup. Again we acted as a team and the results were quite impressive.
Unfortunately, on our way to the Sforza castle we faced with the traffic jam Italians warned us. However, our mood soon brightened seeing Jelena and Novak on the red carpet.
At dinner the time flew quickly. We couldn't get used to sit just a few tables away from celebrities we had the chance to see only on the front cover of the best-selling magazines and TV. Our hero of the night was Shevchenko, a retired soccer star. We all took photos with him as his biggest fans. High fashion designer Giorgio Armani and Anna Wintour, editor-in-chief of American Vogue, are true style icons. Not to mention Serena Williams, incredible in every way. All these people who came for the well-being of children, living in a small country like Serbia, were more than we ever wished for.
The main part of the event was exciting charity auction. The opportunity to play tennis with Novak, Rafael Nadal and Serena Williams in Milan inspired the liveliest bidding. Items such as the amazing Armani Privé dress worn that night by Jelena or the chance to spend an afternoon at Wimbledon with tennis legend Boris Becker also attracted much attention.
The video featuring a five-year-old boy, Laza, and his sisters walking an hour every day to get to the school, left the strongest impression on us, as NDF team members. Laza has a dream. To learn and work hard so that one day he can help his parents who own a farm. When the video ended, Novak invited our special guest, Marijana, Laza's teacher, to join him on stage. She participated in the teacher training program implemented within the project "Schools of Life". Marijana talked about educators struggling to provide better teaching and learning conditions for children in the area until the Novak Djokovic Foundation opened School of Life in their village, Kadina Luka, near Ljig. She added that the school developed into an educational centre, and became a favourite place for children of all ages to play, learn and enjoy not just during school open hours.
The evening was enlivened with a live performance by Italian trio Il Volo and Zia Uehling, an 11-year-old and extremely talented singer. A daughter of Novak's family friend, she receives strong support from Novak and Jelena. Djokovic introduced her to a wider audience during one of his post-match news conference at the US Open 2014. Il Volo even got Novak to sing along with them the famous Italian song "O Sole mio". They promised to challenge him one day and show how skilful they were with racket on tennis court.
The gala came to an end. It was time to return to the hotel, pack and catch an early morning flight. In a few hours we were back in Belgrade. It was the first day of fall.  We hardly summarized our impressions of the event and recalled all the things we have experienced in Milan. There was still a lot of work to do, so we had to turn our focus on the upcoming events and projects.
Now we are counting down the days to the 1st October €" the beginning of the sixth Friendship Games. The friendship camp is a week-long retreat for children who come from disadvantaged backgrounds and areas in Serbia. Our goal is to teach them the values of friendship and teamwork through engaging workshops and various interactive games, hoping the peers they meet at the camp will become their friends for a lifetime. Schools of Life and Friendship Games are our favourites and projects that best define our mission.
Milan charity Gala dinner accomplished its goal: get global philanthropists see through our eyes the children in Serbia, and realize that believing in Laza, Ana and Luka's dreams is a step forward on creating a better and brighter world. After all, it's not the glamour on the red carpet that matters – Children, happy, full of joy and smiling are always in our limelight.
Thank you for your support!
Your NDF TEAM