Center for protection of infants, children and youth in Zvecanska street  has issued a Call for Volunteers.

"I arranged everything. We are going to visit children who don't have mommy and daddy",  I said to my sons Stefan (8) and Aleksa (6), during dinner.
"The same children you told us about? The ones that live in Zvecanska street?",  Aleksa asked me.
"That's right. I scheduled our arrival for the day after tomorrow. We will spend some quality time with them in the morning".
"What gifts shall we bring them? Maybe some toys?",    it crossed Stefan's mind.
"Sure. You can pick some of your own toys, but also choose some books, coloring books"¦ Be generous, because you will make the children very happy. We will get some candies, as well. I'm sure they will like it."
At 7AM that Thursday Belgrade was already the hottest city in Europe. But, we were ready to go, and the boys hardly waited to meet our new buddies. I raise my children following the motto that they will always be the very image of their parents. I teach them that deeds are important, not words. That's my philosophy,
The time in which they grow up is full of challenges. Lacking in quality programs, children nowadays are stuck in front of TV and computers, and they have their own virtual worlds and lives. I try to help them fill their time, so that devices are neither their first, nor the only option. It is never hard for me to gather their buddies (what, by the way, is not that easy), because I like when they play football, cards, hide and seek, monopoly and other games together. They like it, too, because they learned that friendship is precious thing in life, and that Code Lioko can never replace Marko, a friend sitting next to them in class.
I got them ready for our visit and I once more explained who lives in Zvecanska street. I have told them before about children who grow up without their family or parents, and that they are also wonderful, noble, talented and smart just like any other kids they meet.
"But if they are so good, why have their mommy and daddy left them?",  my elder son asked me once.
"Some have done that because they were too young, the other were forced due to lack of money. Some children were taken away from their parents because they were abused. But, nobody has left a child because it did not behave well",  I tried to explain.
We arrive in front of a large building, with even larger yard. It is beautiful, with lots of facilities for children. We climb upstairs. Five adorable kids, nicely dressed, are waiting for us. The room has a table with drawing kit, dishwasher and little beds in which they sleep.
Adi is the smallest one in the group, and he immediately won my boys over. They kiss and hug him, fondle him…Adi smiles silently. He doesn't speak Serbian that well, but language of friendship is unique.
Stefan takes a book, and starts to read him, slowly and clearly. At first, Aleksa assembles a Bakugan toy, but later he doesn't want to let Adi go (he mentions him every day, even now).
There is another boy in the group – Joca, a child with disability. He sits calmly, takes toys in his hands, and looks pleased because of the candies. He follows our every move, and communicates with his teacher, who explains to us that he is very happy.
The biggest star in the room is Zorana, a beautiful and intelligent little girl, who gets under your skin quickly and shows what she can do. Although she has cleft palate, and speaks a bit harder, she finds no obstacles to tell us how happy she feels.
I play some music on stereo for them – she knows all the songs, and dances with the rhythm. When I wish to take photos of her and the others, she looks at the phone wanting to be a photographer. Zorana has skillfully mastered everything, showing me that she knows all the letters. Irena is thrilled with puzzles, and Stefan helps her to put them together. But she is so handy, so all he does is a mere motivation and appraisal to her. On the other hand, Bilja, a little beauty, just draws and shyly glances at us from time to time. I ask her if she wants us to cuddle.
"I would like that, mommy" – she says.
I instantly get a lump in my throat, taking her in my arms. I sing a song to her, hugging her. She holds me around my neck, tight. Her eyes are beautiful and dark, with long eyelashes. I notice her lovely little nose, and shining teeth while she laughs. I look at her, and wonder how she picked the word "mommy" out of all others. She is too small to know that she does not have a mother. When has her mother left her?
I wonder if somebody has taken a wing from these little angels upon their birth. Will life hurt them, no matter how it develops? How much suffering these little sweethearts will have to overcome? Will they always dream of how their mothers and fathers look like? Will they think of them on their birthdays? I cannot imagine life without my parents. Can they live without thinking of their own, however they are?
I remember that I first visited this children center when I graduated from Faculty. We had our practical lessons there. It takes a lot of heart, patience and love without measure to be able to work in such an institution. I admire the women who work there – they feed the kids, play with them, and take care of great number of kids, greater than before. These women know each child by name; they know their habits, what bothers them, what they like… They are happy to see them progress. They teach the children to be independent, to love, to make friends. To be better than all of us.
We say goodbye after two wonderful hours.
"Mom, can we come again, please? And lets adopt Adi. And Bilja. And Zorana. In fact, let's bring them all to our home",  the boys ask me.
"Let's put it like this. We will come back very soon and we will start visiting our buddies regularly, deal?".
"Yeees!",  the boys are shouting.
The school will start for several of our friends from Zvecanska street in September, and Stefan wants to tutor them because they will need help in learning new things. Aleksa also wants to teach them how to defend if somebody teases them at school.
If you wish you can help too. I'm sure that each institution of this type in your neighborhood needs volunteers. And here is this special call –
Center for protection of infants, children and youth in Zvecanska street   has issued a Call for Volunteers who want to participate in the activities such as helping children with disabilities without parental care. The aim is to get them ready for school or kindergarten, take them there and/or bring them back. These volunteers would help children to reach their developmental potential and to become equal members of the society, by playing with them and giving them support and love. A little of your time, perseverance and good humor will ensure that we can fulfill this task together.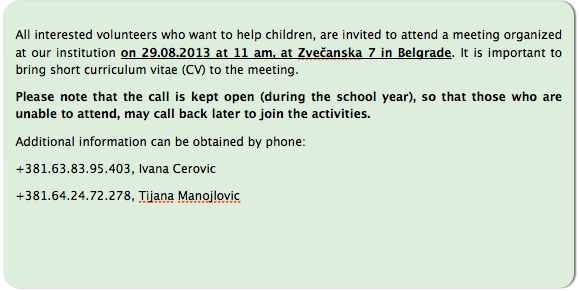 Let's cuddle with them, walk together in the yard, make their hairstyles, sing to them and play with them. You do not need connections or money for that – only love, smiles and your wish to make somebody happy.
The other day I was stopped by a taxi driver and he said:
"I have no money, but if Novak Djokovic Foundation needs a transport for someone, I offer myself to help – that I can do."
You can help too. Not the Foundation. But you can help children! Because we're all on the same mission.
There is a photo that speaks more than a thousand words and that photo inspired me to do all this. It shows a little boy who drew his mommy on the floor and fell asleep in her arms. Some things will always be painful. But maybe they can hurt less. Or not be painful at all, at least for the moment, at least sometimes.