"Two children decided to go to the museum. I prepared for one, but not for the other." Find out more about the experience we had and the lessons we learned from Stefan's and my visit to the museum.
Dear moms and dads, teachers, grandparents, nannies,
Today I wanted to share with you a little adventure – the visit to the Natural History Museum in London with my son Stefan. I learned from our previous experiences that I can't just take him to the museum and hope he'll like it. To make the visit a success, first I have to learn about the things in the museum and try to match them to the things he likes and learns about at home with us. This time, my preparation didn't take long, because Stefan absolutely loves dinosaurs, and the fact that the Natural History Museum hosts Stegosaurus, Allosaurus and Pterodactyl was more than enough. Next step, and a very important one, is to tell him in advance that we'll visit the museum tomorrow and show him what it looks like, how we're going to reach it, what we're going to see there"¦ To say he was excited would be an understatement!
Being a mom, I equipped us with everything I thought we'd need for this adventure: 3 short stories to read in the subway, fruits, water, and a dinosaur. The day was so hot, but I took a light jacket for Stefan because museums can be cold. I did all by the book. But, our kids are masters of surprises. I can never emphasize enough that my children are my greatest teachers. Today was no exception. I came back home with a big lesson.
The first thing Stefan asked for on the subway was to eat. Luckily, we had enough snacks with us because he somehow gets hungry the moment we leave the house. He ate a whole banana and wanted more, but I used a trick – I showed him everything we had on ourselves and told him we had to leave something for later, too.
We started reading the book "It's ok to be different" by Todd Parr and it was perfect for this occasion. A lot of people were going in and out of the subway, so we talked about what was similar and what was different about them. A few times I had to tell him it wasn't ok to point fingers at people.
When you exit the subway, there are small shops will all the candies in the world that you can buy as you walk by. And to be honest, for kids, all the snacks in the world can't live up to the candies in the shops. They can be very distracting…
This time, Stefan surprised me by saying:
''Mom, this isn't good for me, right?", while pointing to chocolates and croissants. '

'Yes Stefan, you're right. And they're not good for me neither."
But it didn't take him long to outwit me, like so many times before.
"Look, mom, they have hazelnuts and cashews and walnuts! We can eat that, that's healthy!" He was showing me the KIND protein bars, but with a lot of sugar.
I decided to buy him one so we could later talk about the hidden sugar and sweeteners. He was beyond happy and I told myself this was a justifiable distraction.
From May to September the museum has a butterfly exhibition. What I didn't know is that this was an exhibition of live butterflies! When we entered the tent where this exhibit was, me, a mother of a child of 3 and a half years, I was beside myself with joy.
"Oh, Stefan look at this butterfly, look at that one…"
He observed it all calmly and said – "Mom, they're pretty. But can we go now to see the dinosaurs? "
The curator noticed my excitement, so he approached us and began to show us the butterflies' eggs on the leaves of plants, then the caterpillars, the cocoons … And I tried to transfer my excitement to Stefan and I completely put the dinosaurs to the side. For me, the visit to the museum turned into a visit to the butterflies! Thank God we have grandma and grandpa.
My parents came along with us and then I decided to hand him over to them (precisely, to grandma, because my dad, like me was thrilled with butterflies). Every couple of minutes, Stefan approached me to remind me that we came to see the dinosaurs and that butterflies are beautiful, but we have to go. He literally told me so!
I gave my mom signals to take him to the dinosaurs and that I'll catch up, but he didn't want to make a single step without me. So I had to give up. Nevertheless, I bought a picture book with butterflies in hope to bring him next time to this exhibition.
Of course, as we entered the museum, Stefan had only one mission. The dinosaur exhibition, thank God, that was on the same floor, so he quickly saw everything he was interested in and asked to go to the souvenir shop to see if there was a toy dinosaur there too.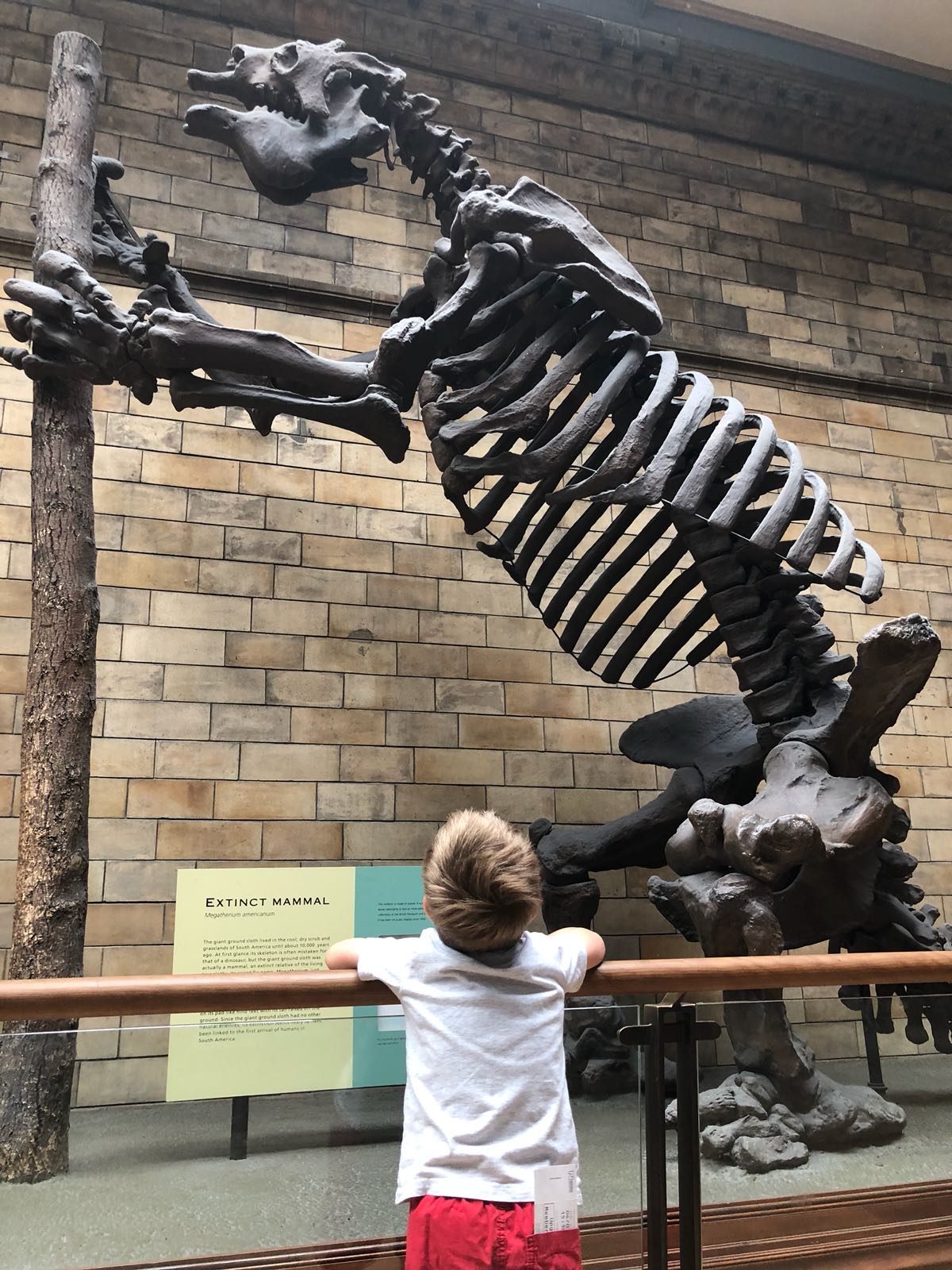 We tried to visit other exhibits, but the only thing that sparked his interest were stuffed birds because he recognized quite a lot of them.  
He loves Larousse encyclopedia with 1,000 animals a lot so that's why.
Again, I didn't count on my curiosity to rear its head, so I started to slowly lose patience when he kept on urging me to go faster just as I was seeing something of an interest to me. There was a whole setup about volcanoes and earthquakes, and that kept him occupied for a few minutes, and Mom, Dad and I were completely astonished by the amount of useful and interesting information. Of course, we had to somehow put all that aside because Stefan knew exactly what he wanted. A dinosaur toy.
Along the way, he ate all the snacks I packed (my method to keep him busy while I read the descriptions below the pictures). We didn't buy any dinosaur toys in the end because they were all huge and impractical for our little traveling circus, but we bought a board game "Guess Who?" and he was happy.
Our hour and a half passed quickly and he already began to complain that he was tired and wanted to go home. For this special occasion, I turned into a giant dragon and I put him on my back and so we flew into the metro. There, he was sitting quietly, sticking the pictures of dinosaurs in his album and telling me what dinosaurs liked to eat and who were their friends.
At the end of the day, Stefan was an exemplary child, and me, the mother, a completely disobedient one. Two children decided to go to the museum. I prepared for one, and failed with the second 🙂
Thank God for grandmas and grandpas, they saved me today. When we spoke to Dad in the evening about how our day went, I transformed the story of butterflies into a story of colorful dragons in the country of the fairies and elves … and surprisingly, Stefan joined me.
My son and his behavior that day reminded me of the fact that I always have to have a goal and to focus on it if I want to achieve it. It's easy to lose a compass today in the abundance of challenges surrounding us.
I am sure that you also had some interesting experiences on the way to the museum. Share them with us!

?
*********
This story was originally published in our Facebook group #Care4Kids, where we share our challenges in raising children. There are parents, grandparents, teachers, but also uncles and aunts – everyone who wishes to be the best possible support to the children in their lives. Follow THIS LINK and join the group!