How "School of Life" in Kadina Luka, Ljig brought smiles to kids and parents?
No matter whether a child lives in a village, or in a city, he or she should have the same opportunities for education, learning, progress, development, play and growing up. The kids from Kadina Luka, however, were not equal to their peers from other cities and towns in Serbia. 
Kadina Luka is a small town near Ljig in central Serbia. Beside the primary school in which NDF has decided to invest the funds, there are no other facilities for the education of children. Therefore, kids from Kadina Luka were limited regarding options for attending kindergarten. If their parents had not been able to take them to Ljig, they would have stayed at home until the primary school. ND Foundation has changed all that!
By renovating the school, we succeeded in improving learning conditions for children of the first grades of primary school, but also in helping little ones up to 5 years old to start kindergarten. Now children will stay in Kadina Luka with the parents who will not be forced to move to some other places in search of the best possible education for the their kids.
There was much hard work to be done during the whole summer holiday in order to "breathe in the new life" to this facility.  Now the parents are motivated to send their children to school here in Kadina Luka and thus continue living in this small town near Ljig. We also provided necessary training for the teachers to be able to work with children in the best possible way.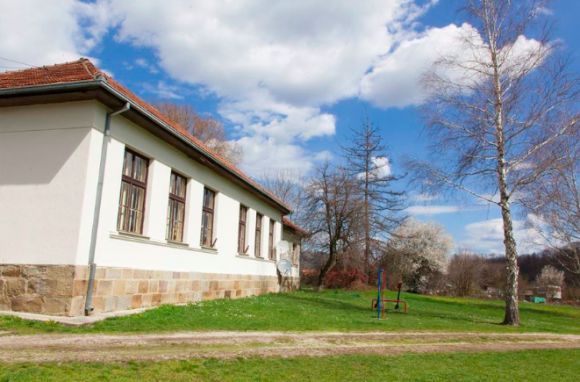 HOW DID THE SCHOOL PREVIOUSLY LOOK LIKE?
The primary school which children from Kadina Luka  attended was found in very bad shape – it was more of a ruin than a place for education, with devastated facade, and poor interior. Although the school has two classrooms, only one was used. Modest heating by wood stoves was the only thing that made children warm in the classroom during winter months, but this was not the case in halls, or in inadequate lavatory, with squat toilets inside. There was also no floor insulation in the classrooms, so the children felt uncomfortable, when it was cold outside. The school yard had a tiny football ground with grass cover, a very small and improvised basketball court, two swings and two seesaws.
Nothing more.
WHAT HAS BEEN DONE SO FAR?
HEATING:
– In order to make sure that pupils and preschoolers will be in warm classrooms during the winter months, floor insulation has been placed  as well as antibacterial floor, easy to maintain.
– The walls have been covered with plaster, for better insulation.
– In cooperation with the municipality, we checked all installations in the school, and we also installed central heating system in all rooms.
THE SCHOOL IS NOW NICER AND BETTER PLACE FOR CHILDREN SINCE:
– The whole school has been painted.
– New restroom has been built according to the standards for kindergarten children .
– New kitchen has been provided for the school and preschool children, and kindergarten room is now fully equipped with furniture and didactic material.
– New jungle gym – slide has been placed in the school yard.
At the beginning of the project, our plan was to renovate only one classroom, out of the two existing ones, for children from kindergarten. Due to the fact that these children will later on also attend primary school in the same building, we have decided to make them happy and to renovate both of their classrooms in the school. In that way, our project covered children ages 7-14 years old.
Parents also joined in and provided great assistance. They rolled up their sleeves and worked hard to repair the remaining windows and doors in the school. The existing play sets for children in the yard are now painted,  preparation works for setting climbers and sandbox have been carried out…
Thanks to parents and the municipality of Ljig who supported our project, the program was immediately accepted. Twelve children have been included in it so far, and we expect that the total number of children will rise to 18, including children from vulnerable groups (all of them have not attended the kindergarten yet). In addition, three children will be transferred from central kindergarten in Ljig to this building and therefore they will not have to travel far anymore.
"Schools of Life" project also helped another teacher to be hired, while the entire school area can now be used for various activities, meetings, gatherings as well as for daily play of children who live nearby.
At the moment there are no children who attend preschool program, but this program can be completely organized in the kindergarten room.
Teachers in preschool institution were not forgotten. They have already attended three specialized seminars, and another one will take place in November. The project also includes monthly mini grants for start-up costs in the period of 8 months. Expert advice and CIP assistance have been provided during the project for preschool institution.
This is just the beginning of the "Schools of Life" project. Similar actions will be implemented in the municipalities of Knić and Raška. We are very proud that we can share all this with you!
Let us rejoice together and believe in their dreams!