Creating a Learning Partnership with Children through the Use of Stories
My recent Instagram live chat with Jelena Djokovic focused on how we can support children's learning during this time of quarantine. Working together, we have been discovering and using some wonderful children's books and stories, and both feel passionate about how they can be used as a resource to build knowledge in a natural way.
I wanted to explain a little more about why I feel strongly about the use of stories as an effective tool. And in my next blog, I will share with you further ways on how to support your child's social and emotional learning during this period.
Stories aid in terms of learning because they:
are inviting and engaging, capturing children's attention and imagination.
can be used in both a reciprocal and collaborative manner, with mutual engagement and dialogic interaction between the reader and the listener; and play and re-invention as children collaborate with each other.
provide children with context and meaning (at times, we attempt to teach children concepts without providing them with context. Stories give us a framework on which to build learning, and act as a springboard from which to explore different ideas).
are dynamic in that they are brought to life again and again through communication, discussion, and dramatization. Stories lend themselves to exploration, adaptation, and play.
Before the online chat, I read a lovely phrase written by Meghan Cox Gurdon in her book The Enchanted Hour (which happens to be one of the best books I've read In many years, offering I believe, a life-changing perspective on reading for parents and teachers) on how children benefit when they and their parent (or carer/teacher) 'establish a positive pattern of relating while reading' (Cox Gurdon, 2017, p. 80)
As we read and engage with a story, we create a learning partnership with our children.
We explore together, we jump off at different points together, we research together, we participate in – or even invent activities – together. To view our engagement with the children in our care as a partnership is crucial as, I believe, children sense when we are working with them in terms of investigation and discovery, and not simply feeding them information in a hierarchical manner, considering ourselves as superior and them as inferior. Children, like us, love to feel that they are a part of something. We can help them to feel like a valued member of a learning team.
When we think of story or learning, some of us may picture children sitting quietly and listening as they take in information. I believe that it is necessary for us to challenge this mindset and to think of story and learning as interactive processes.
The irony is that children are far more likely to remember concepts and ideas if the learning path is a little convoluted – not quiet, sedate and carefully controlled – but rather stimulating and exciting. Our brains are wired to learn when we're focused, active and joyful!
As you read a book, consider different areas of learning: 
1. Knowledge and understanding of the world – can you learn more about the earth, and about nature? In The Very Hungry Caterpillar, for example,  you can learn about which creatures lay eggs, then extend to which creatures don't and how they reproduce, you can explore leaves picked outdoors, and draw their shapes or collect a few and color over them to explore pattern. You can explore the life cycle of the caterpillar in greater detail, you can look into butterflies and where and how they live.
2. Is there mathematical knowledge to be uncovered? Maths is not only about counting but about concepts like size, shape, length, distance, weight, time, pattern, etc. Also consider mathematical vocabulary like half and whole, more and less, etc. When we begin to look, we will see mathematics in almost everything. Working with The Very Hungry Caterpillar you can work on lengths of caterpillars, shapes of eggs, shapes of leaves, number of items eaten, baking and cooking of foods the caterpillar consumed (using mathematical vocabulary and concepts), the symmetry of the butterfly (combining art), etc.
Also, consider the sequencing of a story. This too is mathematical – what happened first, second, third, etc. Reading and maths are both sequential, and so simply having your child sequence a story and tell it to you is working on this. It's also working on planning, logic, and memory.
We can be confident as we work with our children that much is happening on a cognitive level. We don't need for it to feel taxing and difficult in order for it to be effective.
3. Is there language to be learned? Is there a new vocabulary that can be introduced within the context of the story? Never be afraid to use complex words and terminology. Link the new words with more familiar words and use them interchangeably to build understanding. Children will use the context to aid them in assimilating this knowledge.
4. Creativity – Can you introduce music to your learning? A rhyme or song that links to your topic/learning will add fun and aid in memory.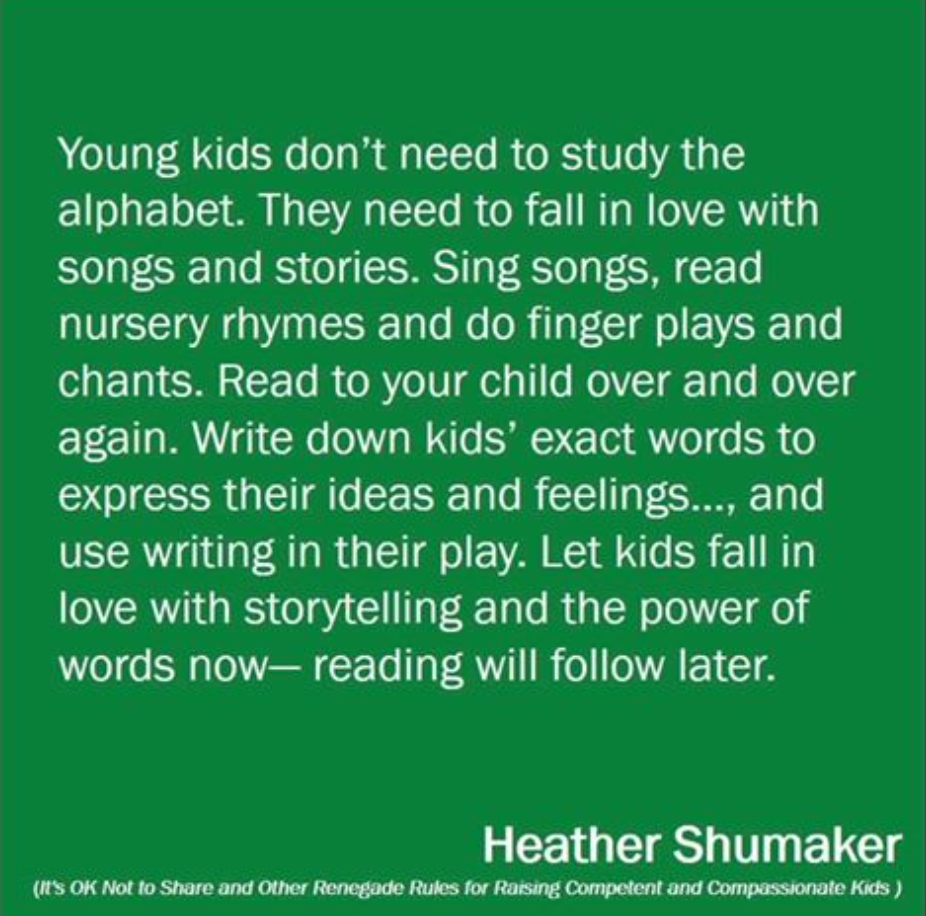 5. Is there a way to introduce movement through drama – for e.g. playing charades, acting out scenes from favorite stories, yoga, different physical movements like hopping/jumping, etc. A really lovely idea I recently discovered is to have your child act out the book as you read it. Children love this and it's great for listening and attention, and for physical activity. Swap roles when you've done this activity and let them be 'teacher' and 'read' or tell you the story, acting it out for them.
6. And always, and most importantly, is there a way to focus on social and emotional learning?
Considering:
How do the characters in the story feel?
How do we know they feel this? (Point out facial clues – use your tone to give them clues as you read).
What do they think?
What do we feel about what they feel and think?
How might we feel if that were us?
What other feelings does the book cause us to feel?
What does the story cause us to think about?
Use stories to foster theory of mind, empathy, compassion, understanding – always drawing out what is common to us all as human beings
I recently started reading The Librarian of Auschwitz written by Antonio Iturbe and on the first page of the book, Iturbe says,
 'Each time someone stops to tell a story and children listen, a school has been established'. 
Rebecca Solnit writes further on the power of story to provide solace, empower and transform us.
'Nearly every book has the same architecture — cover, spine, pages — but you open them onto worlds and gifts far beyond what paper and ink are…Some books are toolkits you take up to fix things, from the most practical to the most mysterious, from your house to your heart, or to make things, from cakes to ships. Some books are wings. Some are horses that run away with you. Some are parties to which you are invited, full of friends who are there even when you have no friends. In some books you meet one remarkable person; in others a whole group or even a culture. Some books are medicine, bitter but clarifying…Some long books are journeys, and in the end you are not the same person you were at the beginning. Some are handheld lights you can shine on almost anything.'
Let's use the wonder of a story to connect with the children in our care and to allow it to transform us all.
---
About the author: Helen Lumgair holds a BA (Hons) in Early Years Teaching, a Montessori International Diploma, and is a Feuerstein Instrumental Enrichment Mediator. More recently, Helen created and authored a narrative based early years curriculum with an emphasis on developing empathy in the lives of young learners for the global NGO Think Equal: https://thinkequal.org/who-we-are/. Helen is an education advisor to the literary resource Tales Toolkit and is part of the oversight team of the Sure Starts Children's Centre in Tanzania.